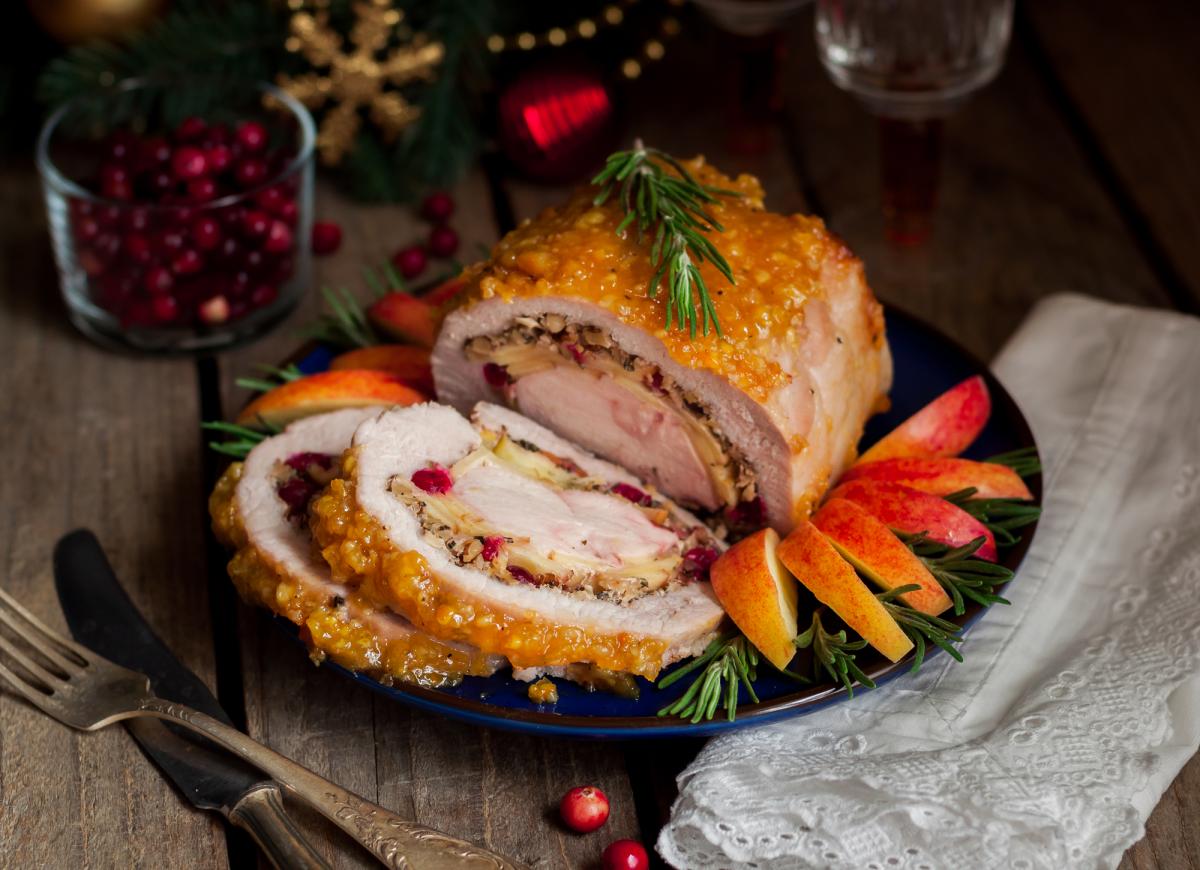 In our menu for the New Year you can find delicious options for festive dishes.
New Year's holidays are becoming a real headache for housewives who are preparing a festive table. Every year you need to make a delicious menu and prepare many dishes. Let's make it easier for you – we suggest some cool recipes for appetizers, main courses and desserts that all guests will definitely like.
New Year's snack: salmon and cheese tartlets
Tartlets – 10 pcs.
Processed cream cheese – 100 g.
Light salted salmon – 100 g.
Fresh cucumber – 1 pc.
Dill is a small bunch.
Mayonnaise to taste.
Cut the salmon into large cubes, the cucumber – into small ones. Cut a part of the cucumber into thin slices. Finely chop the dill. Mix melted cheese with dill and mayonnaise. Put a piece of salmon on the bottom of the tartlets. Then add some cucumber and cover with cream cheese. Put cucumber circles in the form of flower petals on top of the cheese, and put a piece of fish in the center of the tartlet.
New Year's Eve Snacks 2022: Cheese Balls with Crab Sticks
Processed cheese – 100 g.
Crab sticks – 160 g.
Chicken egg – 2 pcs.
Mayonnaise – 2 tbsp.
Garlic – 1 clove.
Salt to taste.
Ground black pepper to taste.
Boil eggs and cool. Cut off the red layer of crab sticks. Separately finely chop the white and red parts. Grate cheese, mix with chopped garlic and white crab sticks.
In a bowl of cheese, stir in finely grated eggs and mayonnaise. Season with salt and pepper. Roll up balls from the mass with wet hands and roll in shavings from the red part of the crab sticks. Refrigerate for an hour before serving.
Menu for the New Year is inexpensive: light salads
New Year's salad does not have to contain half a can of mayonnaise, sausage and pork. A delicious and festive dish can be prepared from dietary meat, vegetables and herbs. Read on UNIAN which light salads for the New Year can be served to guests.
Meat for the New Year: chicken legs stuffed with vegetables
Chicken legs or legs – 2 pcs.
Green beans – 50 g
Green peas, fresh or frozen – 30 g
Bulgarian pepper – 20 g
Boiled carrots – 20 g
Salt to taste
Ground black pepper – 10 g
Smoked paprika – 10 g
Garlic – optional
Chicken egg – 1 pc.
Soy sauce – 1 tsp
Honey – 1 tsp
Read alsoSimple snacks for New Year 2022 in 15 minutes: 6 recipes for holiday delicaciesGently remove the skin from the thigh, being careful not to damage it. Chop off the meat into the bone and leave the skin attached to a small piece of the bone. Remove the meat from the severed bones and chop very finely. Mix vegetables in a bowl with minced meat. Add any spices to the filling and beat in an egg.
Fill the skin on the bone tightly with the resulting filling. Close the ends of the skin with a toothpick. Place the legs on a baking sheet and cover with foil. Bake for 30 minutes at 160 °. Then remove the foil and brush the legs with the mod and soy sauce mixture. Bake for another 10 minutes at 190 °.
Dessert for the New Year: chocolate-orange muffins
Chicken egg – 3 pcs.
Wheat flour – 2 tbsp.
Sour cream 20% – 5 tablespoons
Vegetable oil – 4 tablespoons
Baking powder – 1 tsp
Sugar – 100 g.
Oranges – 1 pc.
Milk chocolate – 100 g.
Beat eggs with sugar, add sour cream and vegetable oil. Add flour, baking powder and grated chocolate. Remove the zest from the orange and grate finely. Add to the dough.
Cut the orange pulp into cubes. Place an orange cube on the bottom of the muffin tins and pour over the dough. Bake at 180 degrees for 30-35 minutes.
New Year's Eve: Hot Chocolate
Thick and rich hot chocolate is a great soft drink option for New Years. It not only warms, but also improves mood. A hot chocolate recipe requires only 4 ingredients and 10 minutes of time.
You may also be interested in:
Author:

Ekaterina Pulatova
If you notice an error, select it with the mouse and press Ctrl + Enter
.