Another "hum-convoy" was brought in today through a section of the state border not controlled by the government of Ukraine, through the Russian border checkpoints "Donetsk" and "Matveyev Kurgan".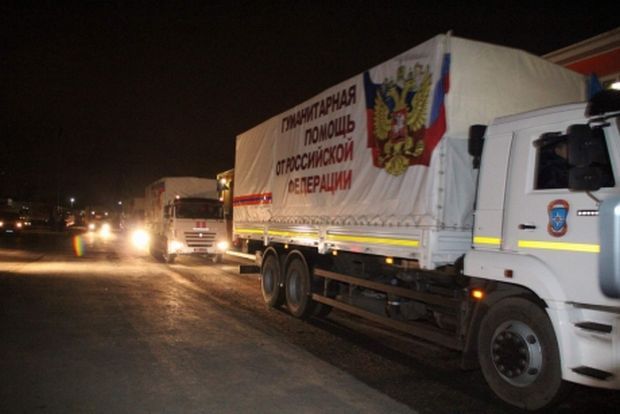 The Ukrainian Foreign Ministry sent a note of protest over the dispatch of the Russian "humconvoy" to ORDLO / photo: mchs.gov.ru
The Ministry of Foreign Affairs of Ukraine expresses its strong protest in connection with the continuation by the Russian Federation of the illegal practice of sending so-called "humanitarian convoys" to the territory of Ukraine.
This is stated in the published comments Ministry of Foreign Affairs of Ukraine.
"On December 23, the Russian Federation once again ignored the previously expressed repeated warnings of Ukraine and without its official consent, in violation of Ukrainian legislation, conditions and modalities for the delivery of humanitarian aid, it illegally sent the 105th so-called" humanitarian convoy "to the temporarily occupied territories in Donetsk and Luhansk regions "RF. The movement took place through a section of the Ukrainian border that is not controlled by the Ukrainian government, through the Russian border checkpoints Donetsk and Matveyev Kurgan," the Foreign Ministry said.
Read alsoInvaders are strenuously recruiting residents of ORDLO into the army – intelligenceIt is noted that this made it impossible for the representatives of the border and customs authorities of Ukraine, provided for by Ukrainian legislation, to formalize it.
In this regard, the Ministry of Foreign Affairs of Ukraine sent a note of protest to the Russian Foreign Ministry demanding that the Russian Federation stop committing illegal actions against the sovereignty of our state and strictly observe international law and legislation of Ukraine.
Help UNIAN. On the website of the so-called Ministry of Health "DPR" today, December 23, information was posted on the arrival of the 105th humanitarian convoy from Russia, which delivered medicines and medical supplies.
Some media reported that the humanitarian aid included more than 270 thousand doses of the Sputnik Light coronavirus vaccine.
You may be interested in news:
.