Gifts included white slippers and a UN convention.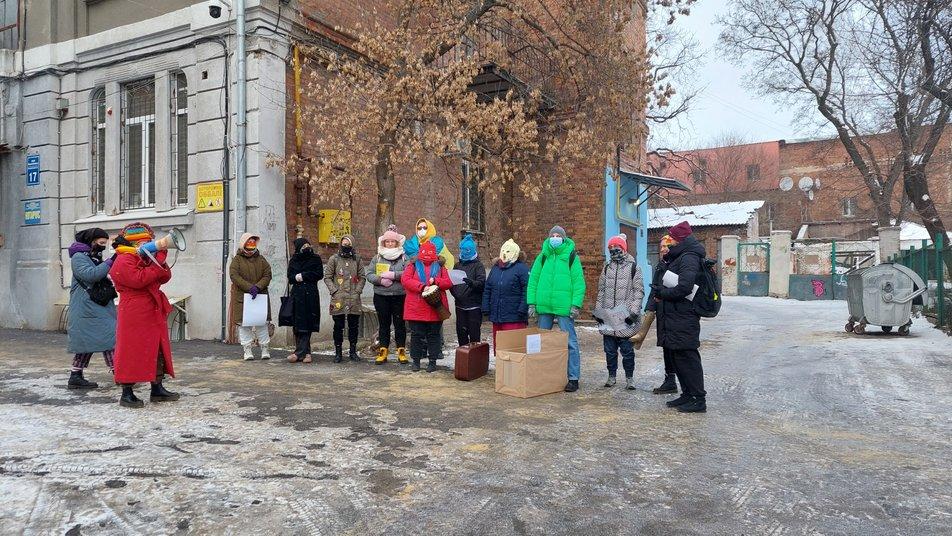 The participants of the performance left a box with gifts under the walls of the consulate / photo: Public Kharkiv
In Kharkov, a street performance was staged under the consulate of the Russian Federation. 15 LGBT activists brought "gifts" for the holidays for Russian President Vladimir Putin.
It is reported by Public.
"Saint Nicholas comes to good children, no one comes to bad ones, and Hellish Nicholas comes to real bad guys, so today we brought gifts for the president of the neighboring aggressor state so that he could know what society and the LGBT community of Kharkov thinks about what's going on, "- said the organizer of the performance Anna Sharygina about the action.
Read alsoIn the Russian Federation, a campaign was organized for the vaccinated: they will play charcoal, brushing teeth and a haircutAccording to her, the activists invented Hellskaya Nicholas as a feminist manifestation of Saint Nicholas. The organizers wanted to make the event feminist, peaceful and humorous at the same time.
The participants in the performance left a box with gifts under the walls of the consulate, in which they put a toy brain, the history of Ukraine, white slippers, socks and a UN convention.
"We want the aggression to stop. Protest, disagreement, strong emotions can be expressed peacefully. We decided to express what our community feels about information about a possible escalation. We want to show that we do not agree, we do not want war, as well as Russia's participation. in the life of Ukraine ", – said Sharygina.
Let us remind you that earlier today a "Molotov cocktail" was thrown into the fence of the Russian Consulate General in Lvov.
You may also be interested in news:
.