Prince William's wife prepared a surprise that amazed all spectators and fans of the royal family, performing at the Christmas concert with Tom Walker.
The Duchess of Cambridge, Kate Middleton, delighted and surprised viewers of the Together at Christmas TV festive concert, accompanying the famous Scottish singer Tom Walker on the piano at the Chapter House of Westminster Abbey, demonstrating her musical talents to the public for the first time.
The concert was broadcast on Christmas Eve on ITV. Later, the video appeared on the official YouTube channel Cambridge.
Read alsoDukes of Cambridge in Scotland: attended the UN climate conference in Glasgow and met with scouts (photo, video)
The Duchess herself approached Tom Walker about a joint performance of his song "For Those Who Can't Be Here" after meeting him at a Forward Trus charity event in October this year (the organization helps people with drug and alcohol addiction).
The Duchess was "very nervous" during her first rehearsal, "because she hadn't played with other musicians for a very long time," writes Dailymail.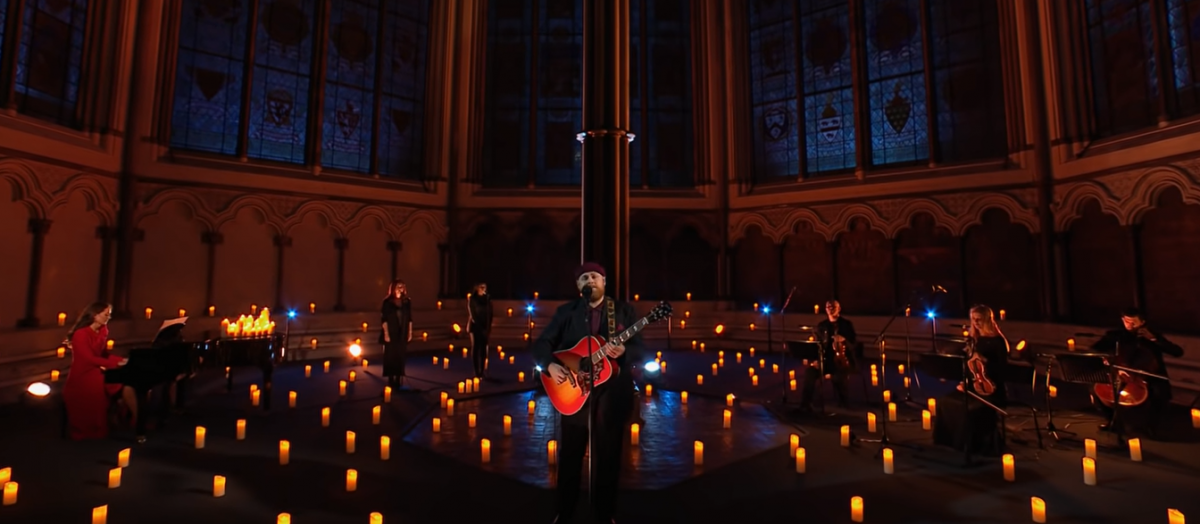 "Music was very important to the Duchess during her isolation, and playing the piano brought her great comfort," said the insider.
"We rehearsed this song about nine times. I think we were both very nervous about things not going as planned and one of us failing the other person or something, but it was just great. just sit down at the piano with a group of musicians you've never played with before and record live takes on camera, but she totally did it. It was a crazy day, I wanted to pinch myself to make sure it wasn't a dream. , play with the Duchess, along with my band and string quartet. Of course, I will never forget it! My mother was shocked when she saw this performance on TV, "Walker shared his impressions.
Walker also described Kate as "sweet, kind and helpful person." According to him, after the performance, she "found time to thank everyone personally for the opportunity to play together."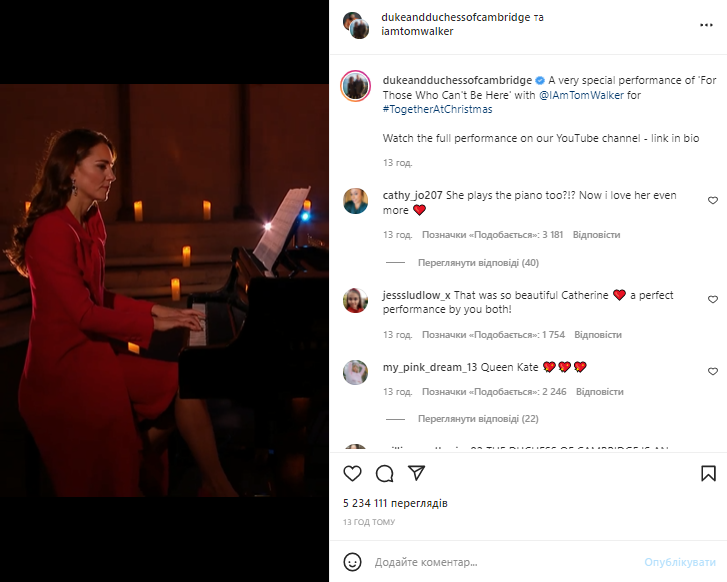 instagram.com/dukeandduchessofcambridge/
It is noted that the Duchess mastered a musical instrument as a child. It is known that Middleton studied at a music school. She took piano lessons for three years, but never performed in public. Therefore, for fans of the royal family, the appearance of the duchess at the piano was a pleasant surprise.
The duo was recorded at Westminster Abbey the day before Christmas service. Kate chose for the concert a red coat dress with a huge bow from the Catherine Walker brand.
Earlier, UNIAN wrote that Kate Middleton decorated the Christmas tree and talked about what gift she had prepared for the British.
You may also be interested in news:
.