Most housewives make the same mistake when preparing this salad. How to properly lay out layers of herring salad under a fur coat – find out on UNIAN.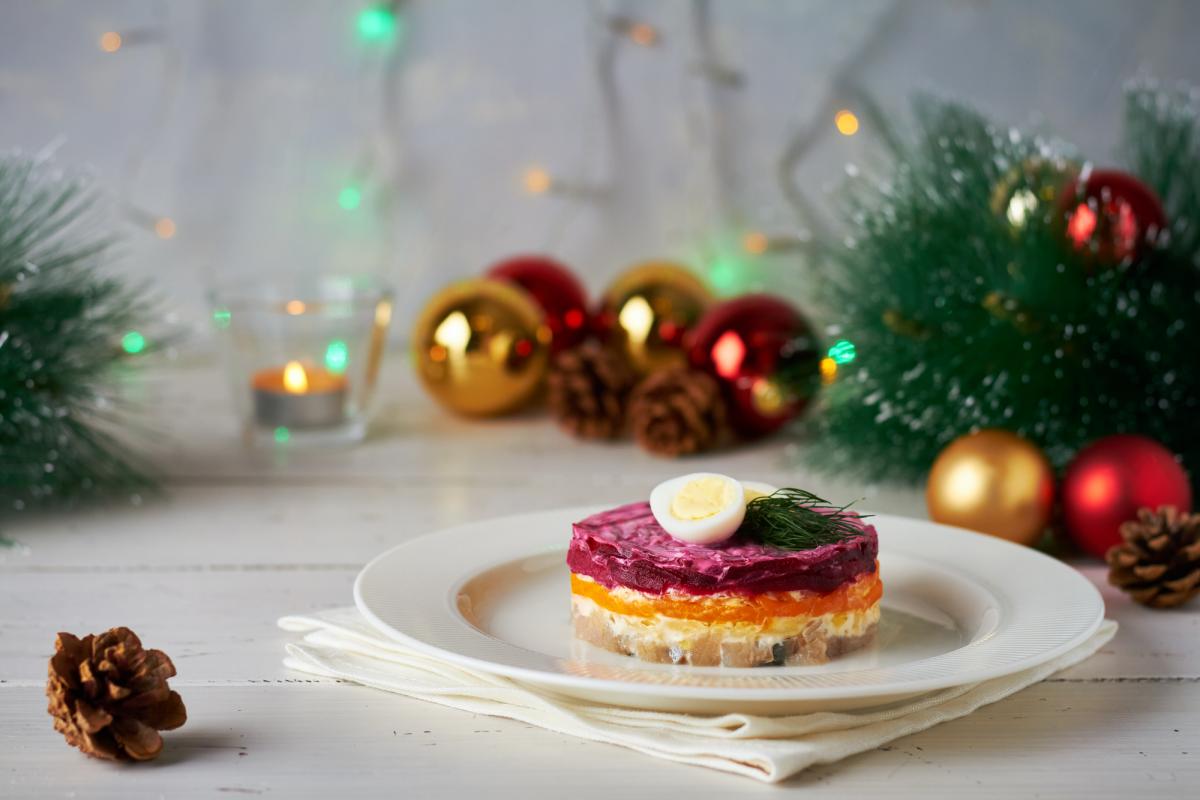 Herring under a fur coat layers step by step – how to lay out correctly and how much to insist /
depositphotos.com
Herring with vodka – what could be tastier during a festive feast? Herring under a fur coat (a classic recipe) is a hearty and incredibly tasty salad that pleases the eye, heart and discerning stomach of more than one generation of our people. A fur coat with red fish is already an exquisite variation of the usual salad.
But when preparing this salad, most housewives make the same mistake from year to year – incorrectly laying out the layers on the salad dish. How to properly lay out layers of Herring salad under a fur coat, so that they complement each other and help to better reveal all shades of taste – read on UNIAN.
How to properly lay out layers of herring salad under a fur coat
The classic version provides that the first layer is boiled potatoes – and already put the herring on it. But we offer you a variant of the order of layers, which gives a fresh, slightly pickled, slightly sweetish taste to the salad:
beets – they go first,
onion on top – in combination with beets, they give the salad a spicy-sweet delicacy,
then the herring, which will give its juice to onions and beets – and at the same time slightly marinate under the top layers;
to reduce the "degree of salt" – put potatoes on top of the fish,
repeat the onion layer,
eggs,
then peas,
followed by carrots,
"loop back" the layers with the second layer of beets.
The salad is decorated with a net of mayonnaise at the very end. For extra piquancy, you can mix mayonnaise with a little mustard.
How long is the Shuba salad soaked
A couple of hours is enough, but to be sure, you should leave it in a cool place (in the refrigerator or take it out on the balcony) for 3 hours.
Which herring is better to buy for a fur coat
When choosing fish for salad, be guided by:
the size

: the fish must be large;

carcass integrity

: it must be undamaged;

tail

: it should not be shriveled (otherwise this herring is too salty);

fat content

: for salad, it is worth picking up fatty specimens.
You can also try to press the gills: if a light liquid has come out, it means that you have a herring of the required degree of salting in front of you.
What can be put instead of herring under a fur coat
It is the herring that is responsible for the classic taste of Shuba. But if there is a need to replace the fish, then, in principle, you can take any other salted or smoked fish:
trout,
lightly salted salmon,
salmon,
hamsu,
mackerel.
Experienced culinary experts also recommend considering canned fish as a substitute for salted herring (just choose fatter fish varieties, and be sure to choose fish in oil, not tomato). When preparing a salad, the oil itself from canned food should be drained in advance.
Read also:
.