How to properly cook Olivier for the New Year 2022 and prevent the top 6 most common mistakes – find out on UNIAN.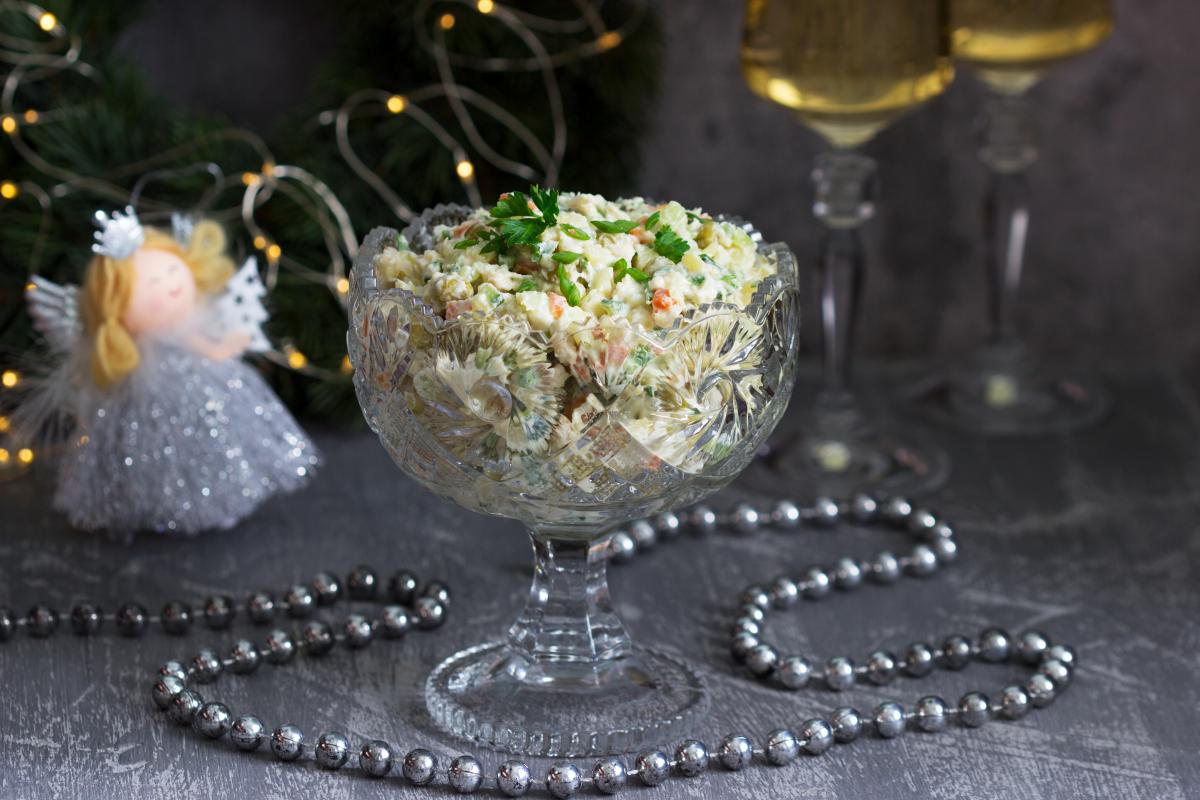 The most delicious Olivier – secret recipe and helpful tips on how to cook. Photo: ua.
depositphotos.com
Classic Olivier in our country has long become a kind, tasty and satisfying symbol of every New Year. But if you add only one – inexpensive and very affordable – ingredient to Olivier's composition, then the taste of the salad will simply amaze the guests, and it will ensure the glory of a culinary miracle!
What you need to add to the Olivier salad to make the most delicious winter Olivier to the delight of all guests, and what you can't do if you don't want to ruin the recipe – read on UNIAN.
Olivier – how to cook deliciously: the most common and annoying mistakes
Use only mayonnaise for dressing the salad: this will make the salad too greasy. It is better to dilute the mayonnaise in half with sour cream, and for those who follow the figure, replace the mayonnaise with Greek yogurt altogether.
Olivier with meat or chicken will turn out to be much more satisfying and more refined in taste – than Olivier with sausage.
You need to season Olivier just before serving. Housewives advise adding even pickles (which can also give extra juice) before serving. This is not only a matter of taste, but also of safety: salads with mayonnaise cannot be stored for a long time (even in the refrigerator). Therefore, the later the dressing is added, the longer the shelf life of such a salad.
Do not add too many peas to Olivier (be guided by the recipe): this will ruin the taste of the salad, make it "simple" and "uncomplicated". And do not use frozen peas – canned legumes are put in the most delicious Olivier.
For potatoes in Olivier, the same rule applies as for green peas: add clearly according to the recipe.
You can't skimp on eggs. Such "hoarding" came to us from Soviet times, when there was a tension with food in the country. But it is the eggs that are responsible for the tenderness of the salad: if you want to cook a real Olivier, then you won't get by with less than three eggs.
Olivier – recipe with a secret ingredient
The "magic" ingredient for Olivier will cost you only 13-15 hryvnia. This is an ordinary processed cheese – you can buy it in any store – but it is he who will add tenderness and piquancy to a festive dish. As a result, your original Olivier will reveal completely new, gourmet flavors.
You will need:
chicken thighs – a couple of small ones;
medium pickled cucumbers – 3 pcs.;
medium potatoes – 4 pcs.;
carrots – 2 pcs.
chicken eggs – standard 3 pcs.;
green peas – 100 g;
onion – one onion;
processed cheese – 1 standard;
for dressing – to taste: mayonnaise, sour cream or mix them in equal proportions.
How to cook:
Boil chicken in water with bay leaves and black peppercorns – let cool – cut into cubes.
Boil the potatoes with carrots in the "uniform" until tender – let cool – only then peel – cut into cubes too.
Boil eggs (at least 8-10 minutes) – cut into nice cubes.
Combine all the ingredients in a salad container – grate the processed cheese there – add green peas.
Thinly chop the onion and cucumbers separately. Combine and let stand for 15 minutes: this way the cucumbers will release excess juice (so that the salad does not end up being too "wet"), and the bitterness will leave the onion.
Mix all the ingredients of the salad – add salt and pepper to taste – mix well. Add dressing and stir again. You can also decorate with herbs (for example, lay out a Christmas tree made of parsley).
Everything! Can be transferred to a festive salad bowl and served.
Read also:
.