Zelensky remembered dozens of professions about Ukrainians.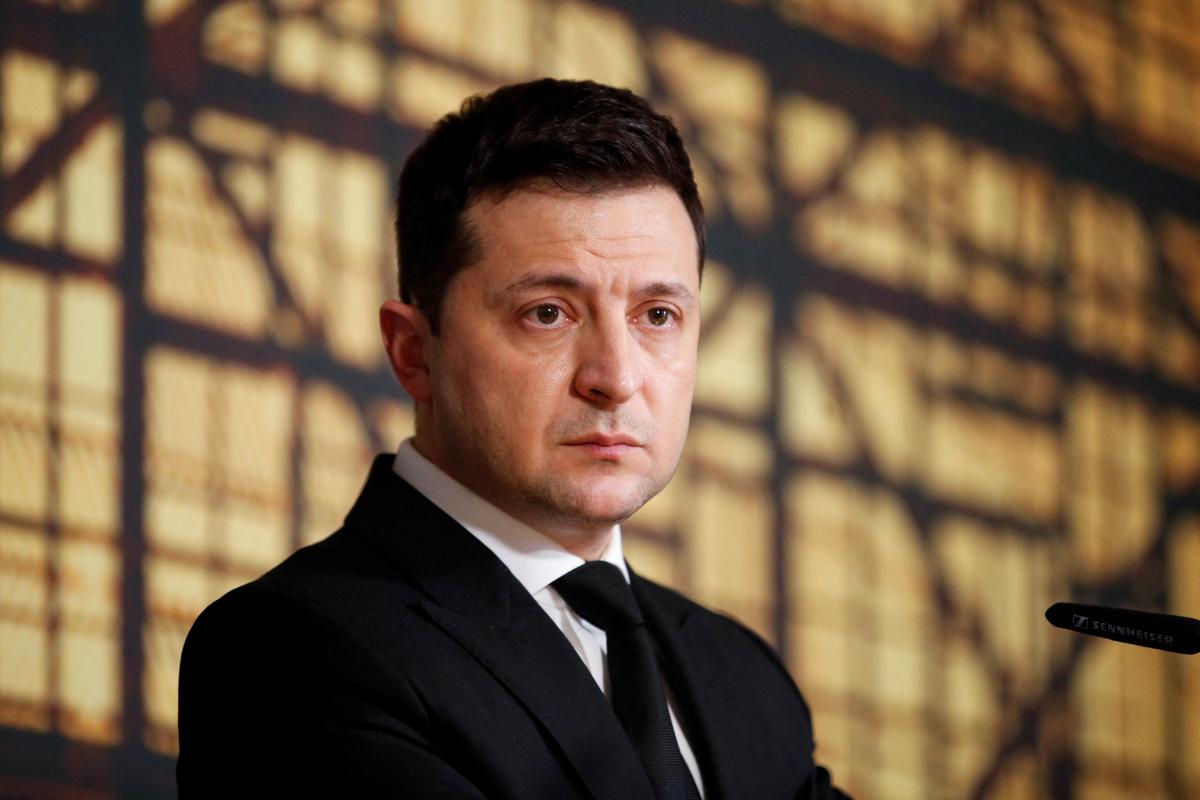 The President dedicated part of his New Year's speech to "extraordinary people and citizens" / photo REUTERS
President of Ukraine Volodymyr Zelenskyy dedicated part of his New Year's speech to "incredible people and citizens" who are building and creating Ukraine.
As a UNIAN correspondent reports, he said this during the New Year's address to the Ukrainians.
"In a few minutes, the new year will come. Traditionally, this evening the whole family gather at the table, call guests, watch the President's New Year greetings, and the presidents first complain a little, then justify themselves a little more, but in general they boast of what has been done," he said …
According to Zelensky, the past year has been special, in particular, because of the 30th anniversary of Ukraine's independence.
Read alsoZelensky appoints Sukhachev director of the State Bureau of Investigations"And so this year it will be different. Well, I will also brag, but a little later. who did it. And not only this year. And who has been building and creating Ukraine all the time of independence, "he stressed.
The President explained that it would be about ordinary Ukrainian citizens, but then added that about "extraordinary people and citizens of Ukraine!"
In particular, about those who ascend into heaven to save one baby, so that one "thank you" could be heard on earth; those who lift the "Dream" into the sky to deliver the vaccine to dozens of countries, so that millions of thanks, danke, merci, gracias will sound on the planet; those who go underground every day to make the Ukrainians light and warm; those who work on the earth every day to make it satisfying and tasty; those who melt metal, and those who build bridges from it that unite us, unite Ukraine.
And also about the teachers who became heroes, teaching children the laws of physics for decades, and those who, despite all the laws of physics, for many years every morning walk kilometers to school in an ordinary Carpathian village.
"Those who teach children with disabilities so that they do not have obstacles and they do not feel worse than others. And the one who does not see obstacles and becomes the best! The absolute 10-time Paralympic champion! These are all our athletes. on all continents of the planet he proved: Ukrainians jump higher, swim faster, shoot faster and harder than others, for whom, "the head of state emphasized.
Read alsoZelensky appoints Sukhachev director of the State Bureau of InvestigationsIn addition, Zelensky remembered those who raised the Ukrainian flag and climbed the pedestal in the rays of glory, as well as those who have been standing in the shadows all this time – the first coaches.
In his address, he also spoke about the doctors who this year made millions of vaccinations and for the first time performed unique transplant operations, about the nurses who have been helping people for decades, as well as about the doctors who remained in the east of our state, remained faithful to the Hippocratic oath, "and when there were only four of them in the whole hospital, they made hundreds of important operations under fire."
"And who has been on maternity leave for all these 30 years. And is a mother for 19 children. And the girl who, after the death of her parents, became a mother for ten brothers and sisters. And our children, who win international Olympiads and competitions. Whose drawings will decorate a unique spacecraft who will study Jupiter. And an ordinary girl, whose courage saved four brothers and sisters. And the one whose indifference saved fifteen hundred people, and his donor blood flows in their veins, "the president said.
He also recalled Ukrainian artists, inventors, drivers, rescuers, police and military.
"And everyone who is on duty now. If only you and I could be here at the table. Everyone to whom we sincerely thank! Those who seven years ago lost their home in the Ukrainian Donbass, but did not lose their spirit and conquered the seven most high peaks on seven continents, becoming the first woman in Ukraine to do this. And those who did not lose their dignity and spoke the truth in Crimea, for which they lost their freedom. And their relatives, who do not lose hope that they will return home ", – noted Zelensky.
As UNIAN previously reported, Ukrainian President Volodymyr Zelenskyy congratulated Ukrainians on the New Year and named his main goals for 2022.
You may also be interested in news:
.