Viktor Vykhrist dealt with the Georgian Iago Kiladze.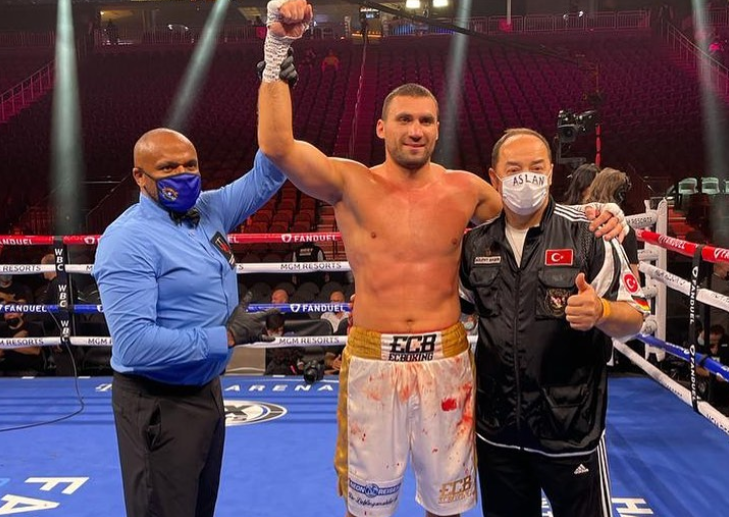 Viktor Vykhrist won a victory in a bright battle / photo instagram.viktor_faust_vykhryst
29-year-old Ukrainian heavyweight champion Viktor Vykhrist has knocked out in the second round an experienced 35-year-old opponent from Georgia Iago Kiladze.
The fight turned out to be incredibly bright and took place on the night of Sunday, January 2, in Hollywood, in the US state of Florida.
The boxers made a real "hack". In the first round, they both got knocked down once! In general, the audience saw 5 knockdowns in less than 6 minutes: 2 times the referee counted for Viktor, three times for the Georgian.
The referee stopped the fight in the 2nd round after another fall of Kiladze, worrying about his health. The Georgian disagreed with the referee's decision and, out of emotion, hit the referee with a glove.
Note that for Vykhrist this was the first knockdown in his career in general. Victor won the ninth victory in the pro-ring, 7 of which were ahead of schedule. He is invincible. Kiladze has 26 victories and six defeats.
Viktor Vykhrist: what is he known for
In January 2020, Vykhrist decided to give up the chances to go to the 2020 Olympics as a member of the Ukrainian national team and became a professional.
Vykhrist performs in the professional ring under the pseudonym "Faust", which is translated from German as "fist".
In 2017, Victor became the European champion among amateurs.
.