The eldest son took birth, while her husband ran to the medical facility to call doctors for help, the woman said. Now she and her newborn son have already been discharged from the hospital.
Christina Eseikina with her son, who helped her to give birth to a baby / public photo
A resident of the Volyn region Kristina Eseikina, who gave birth to a son in a car next to the admission department of the regional perinatal center in Lutsk, said that this is the sixth child in her family.
The birth took place on the last day of 2021. The boy was named Zakhar, the plot says Public.
According to the woman, his 15-year-old brother Yuri and an intern doctor, who heard screams from the car, helped the baby to be born.
Read also"New Year's miracle": in Lutsk, a casual passer-by took delivery of a woman
Eseikina said that on January 31, she began a rapid birth. Her husband brought her to the hospital and ran to look for an entrance to the medical facility. When the contractions began, only the eldest son Yuri was nearby.
"The little one helped me to undress, he took the head, completely put the little one on the Yura's seat," said the woman in labor.
Natalya Moroz, an intern doctor, helped to complete the delivery. According to her, that day she was already going to go home. On the street I saw a confused man, from the parked car I heard the screams of a woman.
"I had one problem that there was nothing on the street. And when the midwife came with all the things, there was nothing to worry about," the doctor said, adding that there was no point in transporting the woman in labor, because everything happened in a few minutes.
Physician-intern Natalya Moroz, who helped with childbirth / photo Public
Mom and baby have already been discharged from the hospital. The whole family came to meet the woman and her son.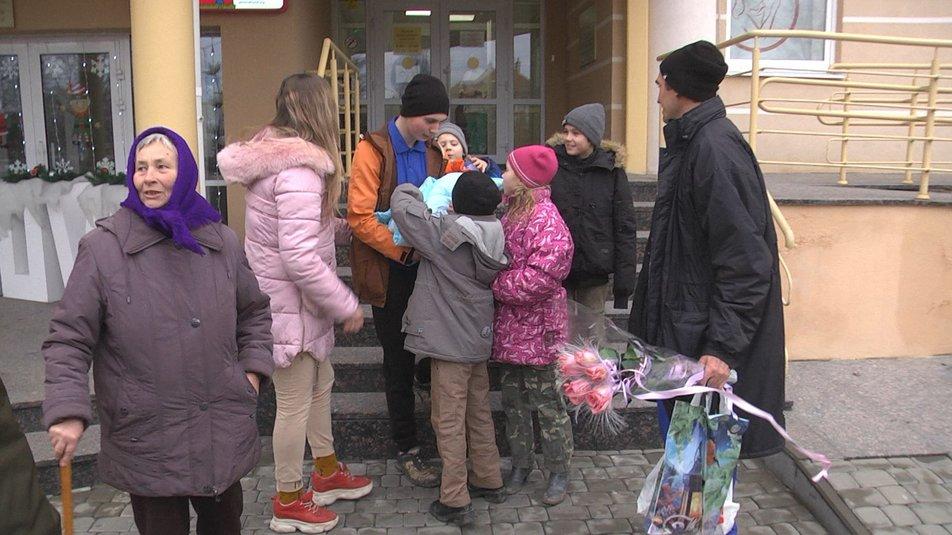 The Eseikin family meets the younger from the hospital / public photo
Over the past year, there were several such emergency births, – said the head of the Volyn medical association for the protection of mothers and children, Irina Goravskaya. He does not name the exact figure. According to her, the intern, who has been working in the perinatal center for a year and a half, worked professionally – her first actions were correct and clear.
You may also be interested in news:
.