The warning will be valid until January 19.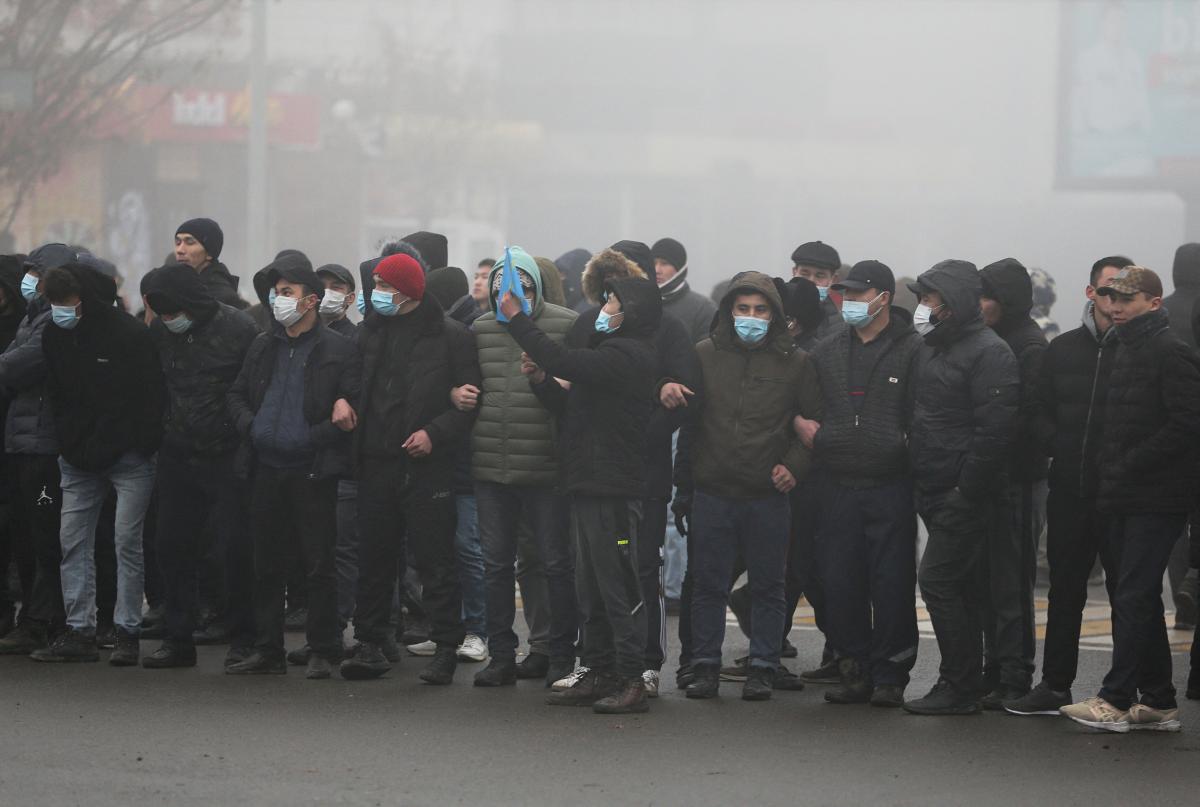 Ukrainians are not advised to go to Kazakhstan because of the protests / photo REUTERS
The Ukrainians were advised to refrain from traveling to Kazakhstan. The reason was massive protests due to a sharp jump in gas prices.
It is reported by Embassy of Ukraine in the Republic of Kazakhstan.
Previously, the warning will be valid until January 19.
"In connection with the introduction of a state of emergency in Almaty, Almaty and Mangistau regions from January 5 to January 19, 2022, we recommend refraining from arriving in Kazakhstan," the message says.
At the same time, the diplomats recommended that Ukrainians who are in Kazakhstan refrain from visiting crowded places.
In addition, the embassy, ​​if necessary, contact the "hot line" at +7 (705) 7556610
"Gas" protests in Kazakhstan – what is known
Mass protests are raging in the cities of Kazakhstan due to a sharp increase in the cost of gas. People went to rallies in many cities, including the capital of the country. Citizens demand the resignation of the government and shout: "go away, old man."
Citizens believe that Nursultan Nazarbayev put in his place a person under his control (Kassym-Zhomart Tokayev). According to the residents of the country, the ex-president continues to influence political life. People block roads, security forces try to stop protesters, fights break out.
Read also"Russia can use it": an expert on the consequences of protests in KazakhstanOn December 4, an acute phase of clashes between protesters and police began in Almaty. Hundreds of people took to the streets of the country who were outraged by corruption and rising gas prices. There were clashes with law enforcement officers. The city center was engulfed in smoke from stun grenades. Several police cars flashed in the city, one of them exploded.
The President of Kazakhstan, Kassym-Zhomart Tokayev, introduced a state of emergency in Almaty and in the Mangistau region from January 5 to 19.
A video appeared on the network showing how Kazakhstani police officers opened fire towards the protesters with rubber bullets.
At the same time, in Almaty, the police detained more than a hundred people during the dispersal of a rally. The police detained the protesters and put them in paddy wagons. The detainees were taken out in an unknown direction.
On December 5, it became known that in the center of Almaty, protesters against the increase in gas prices opened fire on the military. Meanwhile, the buildings of the city administration and the prosecutor's office are on fire in the city.
You may also be interested in news:
.