According to media reports, additional police squads, paddy wagons and buses with police reinforcements have been deployed in the center of the Russian capital.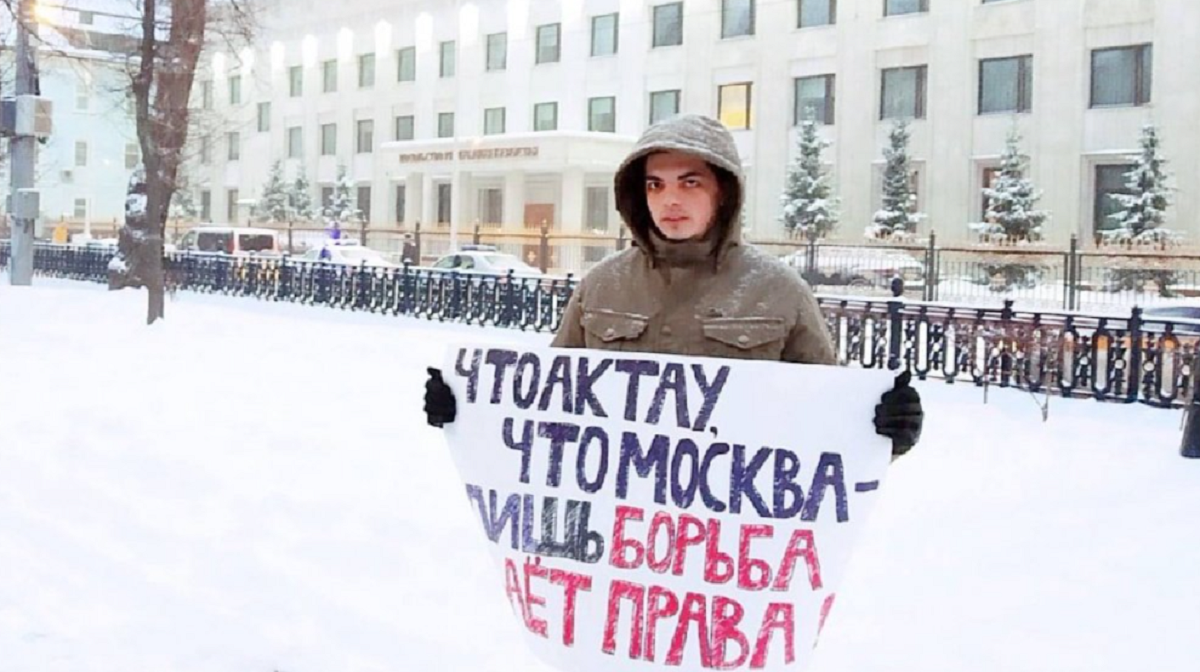 Moscow police detained at least 7 people for picketing in support of protests in Kazakhstan / photo from the website ovdinfo.org
Moscow law enforcement officers detained several people who took to the streets in support of protesters in Kazakhstan.
As writes BBC With reference to reports from Russian media and Telegram channels, the security forces were ordered to stop everyone who would demonstrate solidarity with the Kazakhs and carry national flags or other symbols of Kazakhstan.
At the same time, additional police squads, paddy wagons and buses with police reinforcements were exhibited in the center of Moscow.
Russian non-state human rights media project "OVD-Info"reported that in Moscow on January 5, police detained activist Anton Malgazhdarov because of a single picket at the Kazakh embassy. A man came out with a poster" SHAL KET ", which means" Old man, go away "in Kazakh.
Read alsoKazakhstan declared a state of emergency throughout the countryThen a message appeared on the social networks of the Revolutionary Workers' Party that police detained six activists of the party near the embassy of Kazakhstan because of pickets of solidarity with strikers in Kazakhstan. The activists went to pickets with posters "That Aktau, that Moscow – only struggle gives rights" and "All power to the workers."
According to the project, all seven were taken to the Basmanny District Department of Internal Affairs. On the evening of January 5, information emerged that everyone was released, having undertaken an obligation to report to the police, and a protocol was drawn up against the activist who staged a single picket under the article on careless storage of passports.
Protests in Kazakhstan: what's going on
Since January 2, protests have been held in Kazakhstan over the rise in prices for liquefied gas. Citizens demanded the resignation of the president and government and spoke out against corruption. During the actions, law enforcement officers used force against the protesters, hundreds of people were detained.
Read alsoDuring the riots in Kazakhstan, 8 security officials were killed: what Almaty looks like now (video)President of the country Kassym-Jomart Tokayev accepted the resignation of the government.
In the capital of the country Nur-Sultan, the city of Almaty, Almaty and Mangistau regions, a state of emergency was declared from January 5 to 19. Then it was introduced throughout the country.
On January 5, Tokayev made an appeal to the people and said that he intends to act "as tough as possible." Nursultan Nazarbayev has ceased to be the chairman of the Security Council of Kazakhstan.
Tokayev also supported the proposal to bring troops of the Collective Security Treaty Organization into the country.
An anti-terrorist special operation has started in Almaty.
You may also be interested in news:
.