He called the protests a terrorist threat.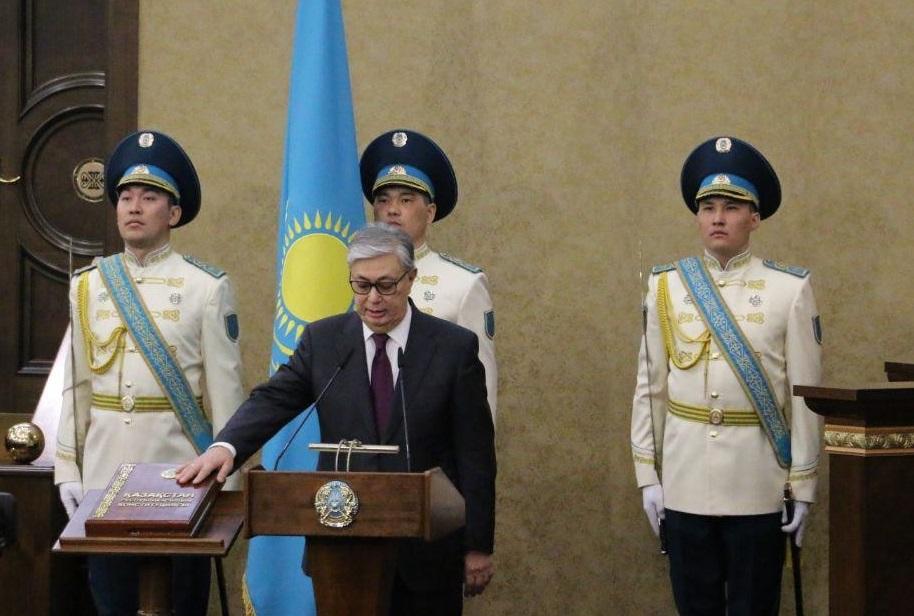 Tokayev made a new appeal / photo nur.kz
President of Kazakhstan Kassym-Jomart Tokayev supported the proposal to bring troops of the Collective Security Treaty Organization into the country.
Writes about it Sputnik Kazakhstan.
The first Kazakh cosmonaut Toktar Aubakirov said on the air of the state TV channel that the security forces cannot cope with the riots, so the CSTO troops should be brought into the territory of Kazakhstan.
"I consider it appropriate and timely to address the CSTO partners," Tokayev commented on his words.
Read alsoProtests in Kazakhstan: Ukrainian trace found
"These terrorist gangs are international, have undergone serious training abroad and their attack on Kazakhstan can and should be considered an act of aggression. of this terrorist threat. In fact, it is not a threat, but an undermining of territorial integrity, "he said.
He also said that now there is "a stubborn battle of terrorist gangs near Alma-Ata with the airborne unit of the Ministry of Defense of Kazakhstan," writes ONT NEWS.
Recall that the CSTO includes Armenia, Kyrgyzstan, Tajikistan, Belarus, Kazakhstan and Russia.
Today Tokayev has already held an emergency telephone conversation with Alyaksandr Lukashenka. Lukashenko himself discussed the situation in Kazakhstan with Russian President Vladimir Putin.
Protests in Kazakhstan
Protests have been held in Kazakhstan since January 2. People took to the streets of cities due to the rise in prices for liquefied gas. Citizens demand the resignation of the president, the government and oppose corruption. During the rallies, law enforcement officers use force against the protesters, hundreds of people are detained.
In connection with the protests, the country's President Kassym-Zhomart Tokayev accepted the resignation of the government. He decided to transfer the interim duties of prime minister to Alikhan Smailov.
In the capital of the country Nur-Sultan, the city of Almaty, Almaty and Mangistau regions, a state of emergency was introduced from January 5 to 19.
The Ukrainian Foreign Ministry advises Ukrainians to refrain from visiting Kazakhstan because of the protests.
Local Telegram channels report that the protesters seized the presidential residence and other administrative buildings. According to unconfirmed information, Tokayev and his family were allegedly evacuated to Russia.
Today, January 5, Tokayev made an appeal to the people and said that he intends to act "as tough as possible." The President also said that he would soon come up with "new proposals for the political transformation of Kazakhstan."
Dmitry Peskov, the press secretary of the President of the Russian Federation, said that Kazakhstan did not ask for help from Russia because of the massive protests.
.