Local residents of occupied Donetsk are being evacuated by bus to the Russian Federation.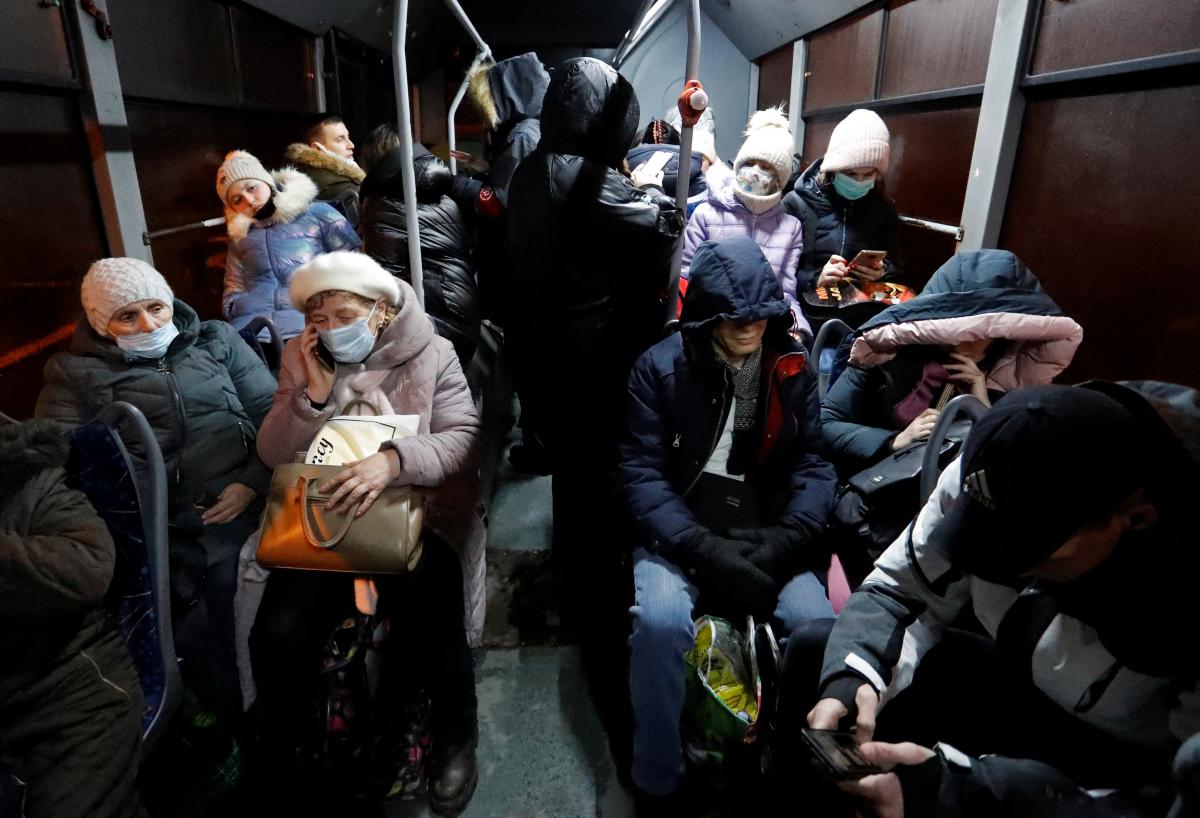 The population is evacuated from the occupied Donetsk / photo REUTERS
On Friday, February 18, the situation in the Donbass reached a peak of tension: against the backdrop of frequent shelling by terrorists, provocative statements by militant leaders about the evacuation of the population of the "LDNR" to Russia appeared.
The invaders substantiated the need to evacuate the residents of ORDLO by allegedly preparing the Armed Forces of Ukraine for a serious operation. The Ukrainian Ministry of Defense is reassuring the population and asking them not to panic, as they are not planning any offensive operations in the Donbass.
How is the evacuation of the population of ORDO: Reuters photo report from Donetsk
The office of the President of Ukraine commented on the statements of the leaders of the "LDNR" about the evacuation of the population. Mikhail Podolyak, adviser to the head of the Presidential Office, said that the occupiers want to provoke the Armed Forces of Ukraine into any massive actions in order to present this as an excuse for their own aggressive actions or possible escalation steps by Russia. He suggested that part of this tactic could be the calculation of the occupiers to hit one of the so-called "evacuation columns", kill civilians "who they use for propaganda", and then blame Kiev for this.
The fact that the evacuation of the CADLO population is a planned operation is evidenced by the fact that the leaders of the LDNR militants Leonid Pasechnik and Denis Pushilin recorded their video statements about the evacuation on February 16, that is, two days before the situation escalated.
Russian President Vladimir Putin has already instructed to place the evacuated residents of ORDLO in the Rostov region. The head of the aggressor country instructed each of those who arrived from the "LDNR" to pay 10 thousand rubles (3,700 hryvnias – UNIAN.).
It should be noted that even during the active phases of the Russian-Ukrainian war, the evacuation of the population of the "LDNR" in the Russian Federation was not previously carried out. It is likely that this is done by the aggressor country to justify its planned military operations.
You may also be interested in the news: