Solyanka dressing saves time preparing this hearty soup.
Solyanka is a very hearty and tasty soup with meat, sausage and smoked meats, which fills you up for the whole day. The peculiarity of the hodgepodge is that it can be prepared from any available ingredients in the kitchen, and it will always be delicious. The most popular products for hodgepodge are smoked meats, meat, sausages, mushrooms, and fish.
UNIAN will tell you how to make a ready-made dressing for hodgepodge for the winter, and how to cook the soup itself.
Refueling for hodgepodge for the winter
Fresh cucumbers – 700 g.
Onion – 2 pcs.
Pitted olives – 1 can.
Carrots – 2 pcs.
Garlic – 6 cloves
A bunch of greens.
Sugar – 1 tbsp
Salt – 1 tbsp.
Vinegar – 2 tbsp.
Sunflower oil – 60 ml.
Black and red pepper to taste.
Cut the onion into large cubes, peel the carrots and grate on a coarse grater. Heat vegetable oil in a frying pan. Saute onions and carrots until tender. Finely chop the greens, cut the cucumbers into small cubes. Add cucumbers and herbs to the pan. Cut the olives in half and add to the pan. Add vinegar, salt, sugar and pepper, chopped garlic. Simmer everything together for 10 minutes under the lid.
Put the hot dressing in a sterilized jar and roll up the lid. Add to hodgepodge 10 minutes before the end of cooking. You can also add tomato paste to the dressing if you like.
Solyanka with bacon and beef
Sausages – 100 g.
Beef on the bone – 350 g.
Bacon – 70 g.
Olives – 50 g.
Onion – 1 pc.
Potatoes – 4 pcs.
Celery – 50 g.
Vegetable oil – 20 g.
Dill, parsley to taste.
Pickled cucumber – 1 medium.
Tomato paste – 3 tbsp.
Lemon – 4 rings.
Salt, pepper, spices to taste.
Cut the onion into half rings, potatoes and cucumber into cubes, celery into strips, sausages and olives into rings. Boil beef until tender on low heat. Strain the broth and cut the meat into pieces. Put potatoes in beef broth and cook for 10 minutes.
Fry onion and celery over medium heat with vegetable oil until half cooked. Put the vegetables in the broth with potatoes. Add cucumber, bacon, sausages, beef and olives to the pot. Cook for 15 minutes. Put tomato paste, salt and pepper, chopped herbs. Cook for 5 more minutes. Pour the hodgepodge into bowls and place a slice of lemon on each plate.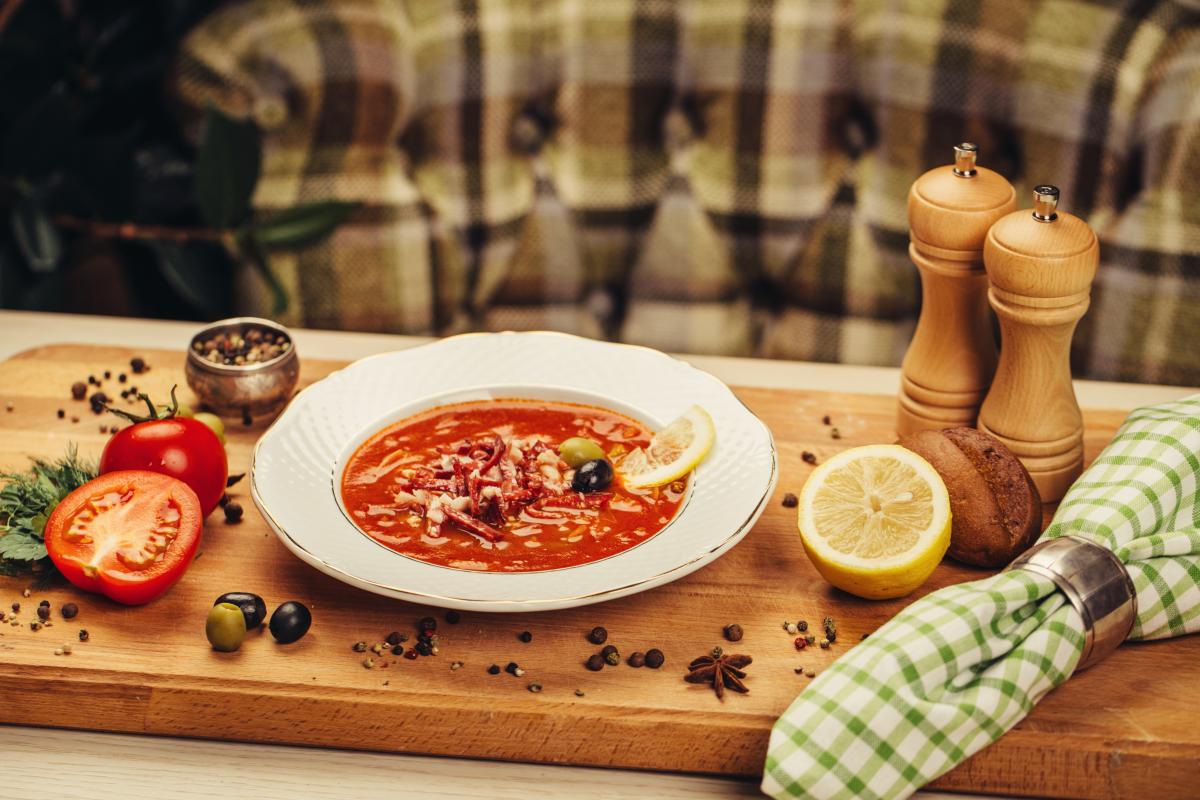 Solyanka fish
Salmon fillet – 250 g.
Pollock fillet – 100-120 g.
Tilapia fillet – 100 g.
Pickled cucumbers – 100 g.
Pitted olives – 1 can.
Carrot – 1 pc.
Onion – 1 pc.
Bulgarian pepper – 1 pc.
Tomato paste – 1-2 tbsp. spoons.
Bay leaf – 1-2 pcs.
Pepper, spices, salt to taste.
Fresh parsley – to taste.
Lemon – to taste.
Pour salmon with 1.5 liters of water, put a bay leaf and cook for 25 minutes. Finely chop the onion, grate the carrots. Fry carrots and onions in vegetable oil until tender. Cut the cucumber into cubes. Add the tomato paste and cucumber to the vegetables in the pan, simmer for 1 minute. Pepper cut into strips.
Remove and cut the salmon, strain the broth. Return the fish to the broth, add the vegetable fry and cook for 5 minutes. Cut the tilapia and pollock fillets and put them in the soup. Add olives and herbs, cook for another 2 minutes and turn off. Serve hodgepodge with lemon wedges.
You may also be interested in the news: