Even a novice cook can make a sour cream cake.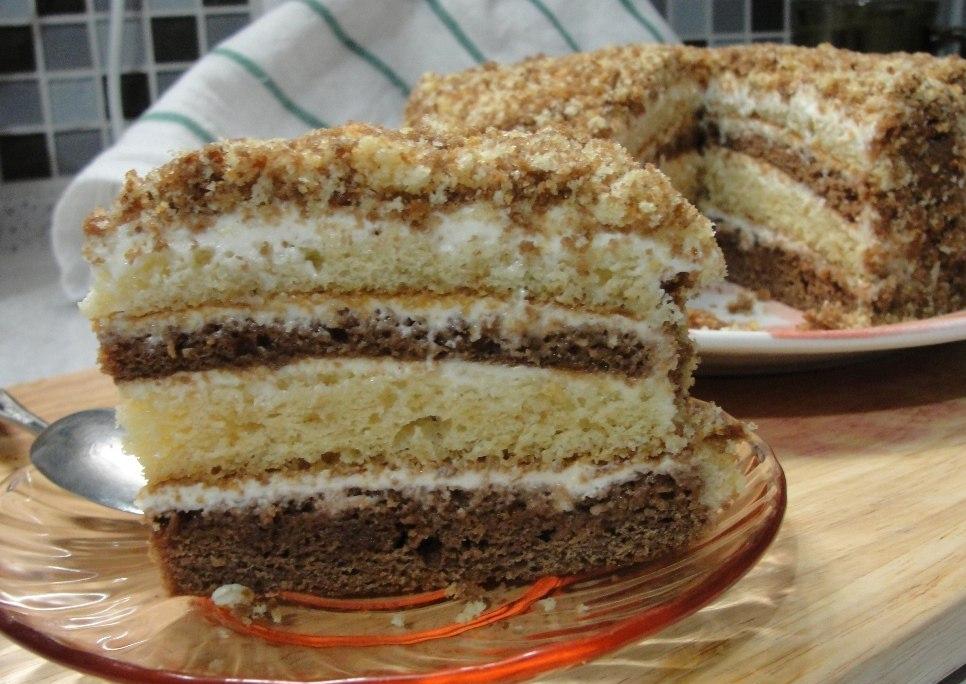 Smetannik is a simple and incredibly tasty cake, which is familiar to many from childhood. The tenderness of an airy biscuit is emphasized by a slight sourness of sour cream. This is the perfect dessert for tea for those who do not like sugary cakes.
Sour cream classic two-color
For the test:
Sour cream – 500 g.
Butter – 200 g.
Eggs – 2 pcs.
Flour – 3 cups.
Sugar – 2 cups.
Cocoa – 1 tbsp.
Soda – 1 tsp.
Vanilla sugar to taste.
For cream:
Cream 30% – 1 kg.
Sugar – 1 glass.
Vanilla sugar to taste.
For the dough, beat eggs with sugar until fluffy light foam. Add sour cream and melted butter. Add sifted flour and soda. Mix the dough and divide into two equal parts. Add cocoa powder to one half.
Pour the dough into round molds lined with parchment. Bake for 30 minutes at 160 degrees. Cool the finished biscuits and cut across. To prepare the cream, beat fat sour cream with sugar and vanilla. Lubricate the top of the cakes with sour cream and fold the white and brown cakes in turn. Then grease the sides of the cake with cream. Leave for 30 minutes for the sour cream to soak.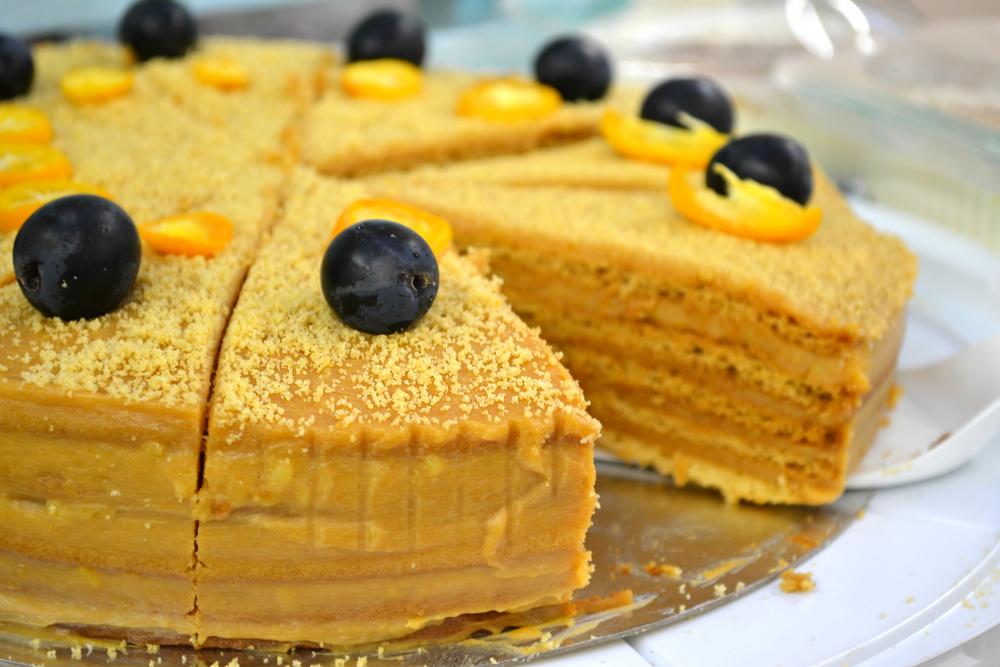 Smetannik in a pan with condensed milk
For the test:
Flour – 600 g.
Sour cream – 350 g.
Sugar – 150 g.
Eggs – 2 pcs.
A pinch of salt.
Cocoa – 1 tsp.
Baking powder for dough – 10 g.
For cream:
Boiled condensed milk – 300 g.
Sour cream – 300g.
Beat eggs with sugar until fluffy. Add sour cream and a pinch of salt, beat again. Add flour, baking powder and cocoa to the dough. Knead a thick dough until it stops sticking to your hands. Leave the dough in the refrigerator for 20 minutes. Then roll out thin round cakes of the same size. Bake on both sides in a dry frying pan.
For the dough, beat sour cream with condensed milk. You can take less condensed milk if you like not very sweet desserts. Cool the cakes and grease with cream. Top the cake, if desired, decorate with nuts or cookie crumbs.
Simple no-bake sour cream
Sugar – 100 g.
Corn starch – 25 g.
Flour – 40 g.
Egg – 2 pcs.
Sour cream – 400 g.
Butter – 150 g.
For the base:
Cookies – 300 g.
Butter – 100 g.
Pour sugar, vanilla sugar, flour, starch into a saucepan. Beat eggs. Add sour cream and mix everything. Put the saucepan over medium heat and cook the sour cream for 10 minutes, stirring all the time. At the end of cooking, reduce heat to low.
Remove the cream from the stove and immediately stir in the softened butter. Cool the cream to room temperature. Grind cookies in a blender, or put in a bag and smash with a hammer. Melt the butter for the base. Mix hot melted butter with cookies. Put in a round shape, form the base and sides of the cake.
Remove the form with cookies for 15 minutes in the refrigerator. Then pour the base with sour cream and leave overnight in the refrigerator. The finished cake can be sprinkled with cookie crumbs or cocoa powder.
You may also be interested in the news: