In the captured city, the Ukrainian army attacked an object used by the opponents, a war correspondent shared.
In Novaya Kakhovka, Kherson region, captured by the Russian invaders on Saturday, August 13, powerful explosions occurred at an electromechanical plant, which the opponents turned into a warehouse.
Explosions in Nova Kakhovka occurred after a strike inflicted by the Armed Forces of Ukraine, war correspondent Andriy Tsaplienko reported on Telegram.
"In Nova Kakhovka, the Armed Forces of Ukraine attacked an electromechanical plant where orcs stored weapons and ammunition. Detonation continues," the journalist said.
Read also: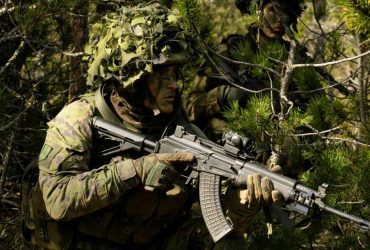 Recall that Russian troops invaded Ukraine without declaring war early in the morning on February 24. Enemies fired at military and civilian facilities and captured a number of settlements, in particular, New Kakhovka. Explosions were heard in the city more than once.
The army gives a worthy rebuff to the enemy. 43.4 invaders have already been destroyed on our land.
Military expert Dmitry Snegirev called Novaya Kakhovka "the most attractive" for the counteroffensive of the Armed Forces of Ukraine.
You may also be interested in the news: