Walnut jam is very unusual in taste and extremely healthy.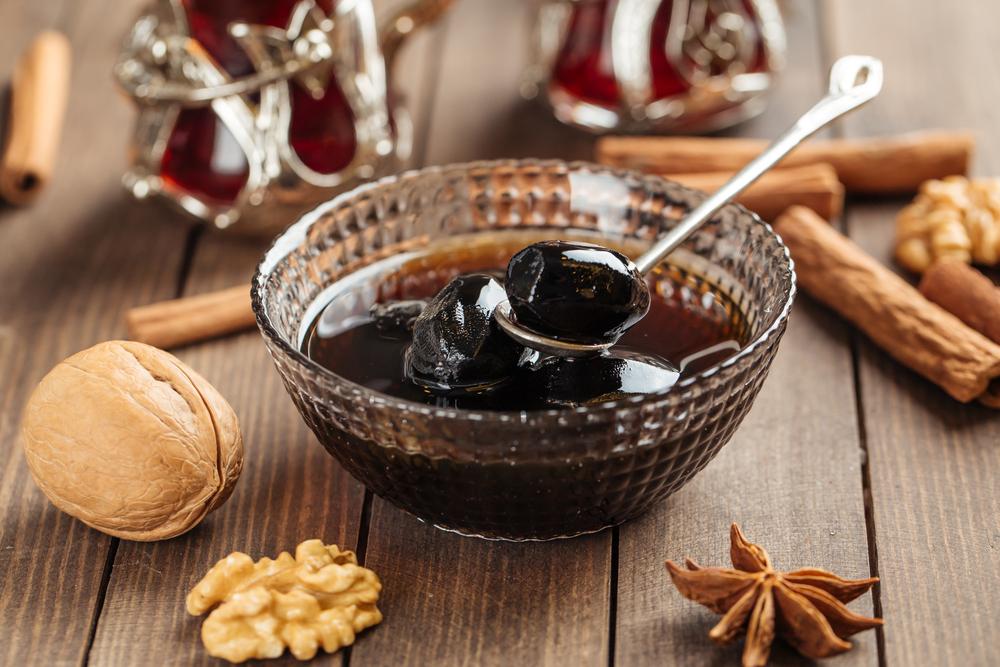 Few people know that an unusually tasty and healthy jam can be made from a walnut. Such a delicacy can be added to pastries or eaten with tea, and it is recommended to pour ice cream with syrup. Walnut jam is prepared from both green and ripe fruits.
Walnut jam: benefits and harms
Such a dessert is very rich in iodine, and most Ukrainians have a deficiency of this element. The treat boosts immunity and makes you feel better when you have a cold. The benefits of nut jam are especially noticeable in diseases of the thyroid gland. Also, this jam improves potency in men.
Walnut jam is harmful for diabetes, overweight and excess iodine in the body.
Simple green walnut jam
Young green walnuts – 1 kg.
Sugar – 1 kg.
Water – 300 ml.
Spices to taste: ground cinnamon, cloves, anise, cardamom.
Cocoa – 2 tbsp.
Select young nuts with soft skins that can be easily cut with a knife. Pour the fruits into a large container, pour water and leave for 15-20 days. Water change every day. You need to soak the nuts in order to remove the bitterness from them.
After soaking, boil the nuts for 90 minutes until they are easily pierced with a toothpick. Mix 300 ml of water with sugar and bring to a boil. Boil syrup until sugar dissolves. Put the nuts in the syrup and cook the jam for 90 minutes. Put cinnamon in the middle of cooking, and the rest of the spices and cocoa – 10 minutes before the end. Pour hot jam into sterilized jars.
Nut jam from ripe nuts and apples
Apples – 500 g.
Walnuts (kernels) – 100 g.
Lemon – 0.5 pcs.
Sugar – 500 g.
Water – 200 ml.
Allspice – 5 pcs.
Cloves in buds – 5 pcs.
Ground cinnamon – 0.5 tsp
Wash and peel apples, remove cores. Cut apples into small cubes. Put the apples in a saucepan, pour water and cover with sugar, squeeze the juice of half a lemon. Add cloves and allspice. Bring to a boil and cook for 15 minutes, stirring regularly with a spoon.
Grind nuts with a blender or coffee grinder. Add the nuts to the apple mixture and cook for another 15 minutes. 5 minutes before the end of cooking, add ground cinnamon to the mixture. Arrange hot jam in sterilized jars and cover with sterilized lids.
You may also be interested in the news: