On the day of the funeral, Olena Zelenska had the opportunity in London to say goodbye to Her Majesty on behalf of all Ukrainians.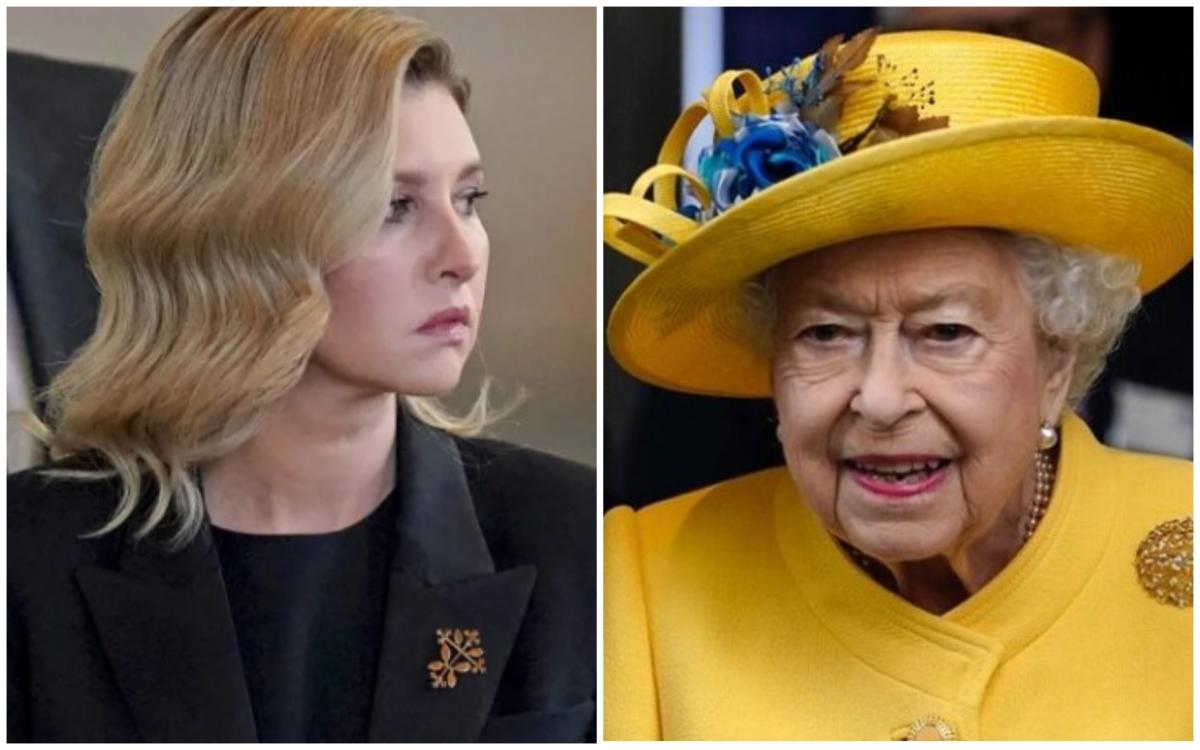 First Lady of Ukraine Olena Zelenska, who on Sunday, September 18, commemorated the British Queen Elizabeth II at her coffin in Westminster Hall in London, thanked her on behalf of all Ukrainians.
So, on the day of the Queen's funeral, the spouse of the President of Ukraine on her official page in Instagram shared a painful memory of Her Majesty.
The first lady noted that the era that influenced everyone has passed. It was a noble and exemplary era, in which one wants to be involved.
"In these days of the memory of Her Majesty Queen Elizabeth II, almost everyone has their favorite memory of her. It happens when a truly era has passed that influenced everyone. And besides, a noble and exemplary era, in which you want to be involved. For me personally always gave the impression of how, having numerous responsibilities, Queen Elizabeth II and her assistants managed to pay attention and answer letters from children from all over the world, including our Ukrainian children. Zaporozhye and a girl from Kropyvnytskyi – they just wrote to the Queen about their life and received answers! The answer from Her Majesty came to School No. 1 from Berdyansk – after the students congratulated Queen Elizabeth II on her 90th birthday. This is an extremely important feature and a lesson for all leaders, how important it is to be attentive to everyone," she said.
Today, September 19, on the day of the funeral, Olena Zelenska had the opportunity in London to say goodbye to Her Majesty on behalf of all Ukrainians.
"Thank you for your constant attention to Ukraine, for the inspired wishes that we received from you on Independence Day: "Let better times await in the future." So be it," Zelenskaya wrote.
She illustrated her post with the last official portrait of Queen Elizabeth II, which was published a few hours before the funeral by Buckingham Palace.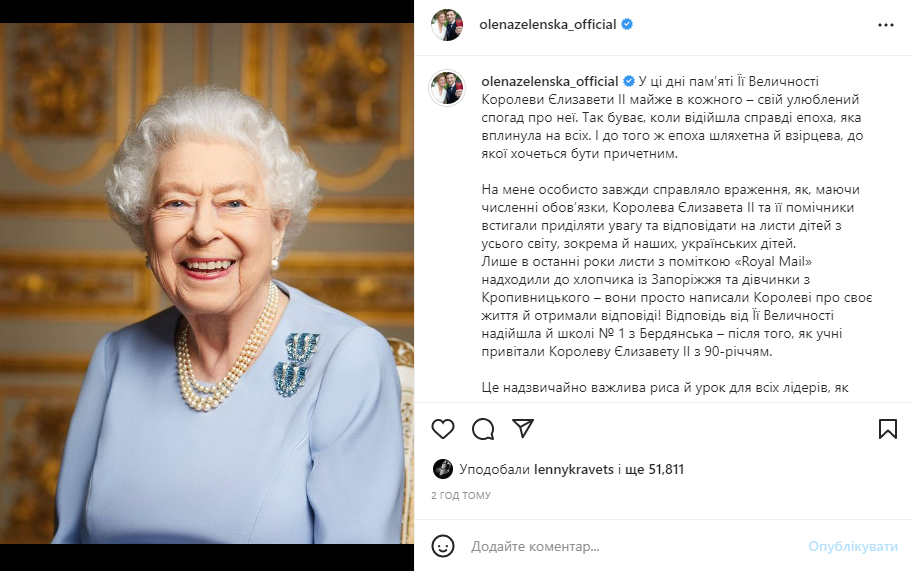 It should be noted that today representatives of almost all countries of the world came to London to pay tribute to Queen Elizabeth II and take her on her last journey. Olena Zelenska attended a solemn procession at Westminster Abbey with Prime Minister of Ukraine Denys Shmyhal.
On the eve of the funeral, Elena Zelenskaya had an audience with the Princess of Wales in London. This is not the first meeting of the first lady of Ukraine with Kate Middleton. In October 2020, they met during the visit of Ukrainian President Volodymyr Zelensky to Britain.
Elizabeth II dies: details of the death of the Queen of Britain
Queen Elizabeth II died on September 8, 2022 at the age of 96 at Balmoral Castle in Scotland. After the death of the monarch, a ten-day mourning began in the country.
The next day, the new King of Great Britain, Charles III, made his first televised address. to the nation, in which he spoke about his mother, Queen Elizabeth II, and also promised to continue her path.
On September 10, Charles III was officially proclaimed King of Great Britain at a historic ceremony at St. James's Palace.
You may also be interested in the news: