A salad with grapes can contain meat, fish or cheese – these berries go well with many foods.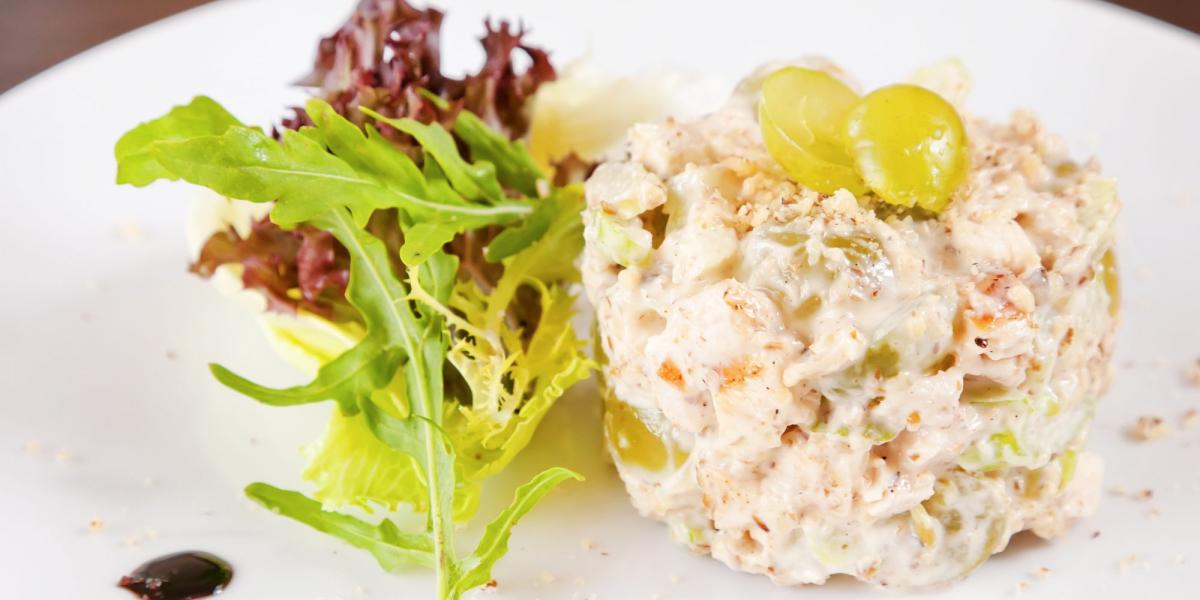 Grapes are an excellent basis for delicious salads for the holiday and every day. This fruit goes well with almost any food and adds a bright touch to the dish. For salads, it is better to use sweet seedless grapes, ideally raisins. Instead of mayonnaise, the dish can be seasoned with yogurt or a mixture of sour cream and soy sauce.
Earlier we talked about when to harvest grapes in the garden and how to determine their ripeness.
Salad with grapes and crab sticks
Grapes – 100 g.
Crab sticks – 100 g.
Canned corn – 100 g
Eggs – 2 pcs.
Mayonnaise – 2 tbsp.
Salt, pepper to taste.
Hard-boil the eggs (10 minutes) and immediately after cooking, put in cold water. Cut crab sticks into thin strips, and eggs into cubes. Drain water from corn. Combine eggs with chopsticks and corn. Cut the grapes in half and remove the seeds, if any. Mix with the rest of the ingredients. Season with mayonnaise and salt to taste.
Salad "Tiffany" with grapes, chicken and cheese
Chicken breasts – 2 pcs.
Grapes – 300 g.
Hard cheese – 200 g.
Chicken eggs – 4 pcs.
Walnuts – 0.5 stack.
Mayonnaise – 80 g.
Sour cream – 80 g.
Curry seasoning – 1 tsp.
Vegetable oil – 3 tablespoons
Cut the chicken lengthwise into large pieces. Rub chicken with salt and curry seasoning. Fry the breasts in a pan in sunflower oil for 3-4 minutes on each side. Cool and finely chop the meat.
Wash grapes and cut in half. Take out the bones, if any. Hard boil eggs. When cooking, you can add a pinch of soda to the water so that they are better cleaned. Grate eggs and cheese on a coarse grater. Roast the nuts in a dry frying pan and peel them. Slightly chop the nuts with a knife or rolling pin.
Mix mayonnaise with sour cream, salt and pepper. Add nuts and stir in the sauce. Lay out the salad in the following layers: chicken, eggs, cheese, grapes, cheese, chicken, eggs. Grease each layer with sauce and decorate the salad with halves of grapes on top. Let the salad brew for at least 5 hours in the refrigerator.
Salad with grapes and liver
Chicken liver – 400 g.
Tomatoes – 3 pcs.
Grapes – 100 g.
Lettuce – 1 bunch.
Olive oil – 2 tbsp
Sunflower oil for frying the liver – 1 tbsp.
Honey – 1 tbsp.
Soy sauce – 1 tsp
Flour – 2 tbsp.
Cut the tomatoes into thin slices, and the liver into small cubes. Salt and pepper the liver. Roll in flour and fry over low heat in a pan in sunflower oil for 10-15 minutes.
For dressing, mix olive oil with honey and vinegar. Tear the lettuce leaves with your hands and place on a plate. Put the tomatoes, grapes, warm liver on the salad and pour over the dressing.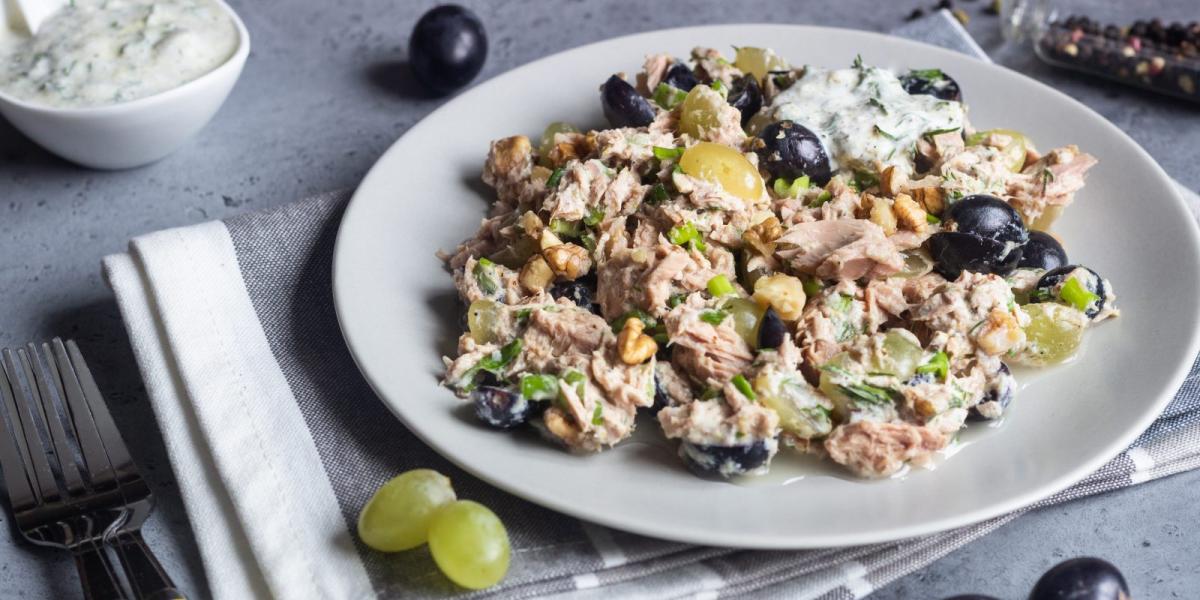 Salad with grapes and tuna
Canned tuna – 200 g
Apple – 1 pc.
Grapes – 100 g.
Green onions – 5 stalks.
Walnuts – 50 g.
Mayonnaise – 2 tbsp.
Salt, pepper to taste.
Peel and grate the apple on a coarse grater. Cut grapes in half. Finely chop the green onion. Dry the nuts in a hot frying pan without oil and chop with a knife. Drain the liquid from the tuna and mash it with a fork. Mix all the ingredients, salt and season with mayonnaise.
You may also be interested in the news: