Currently, the exhumation of bodies is carried out only at one cemetery, in Izyum there are 7 such places.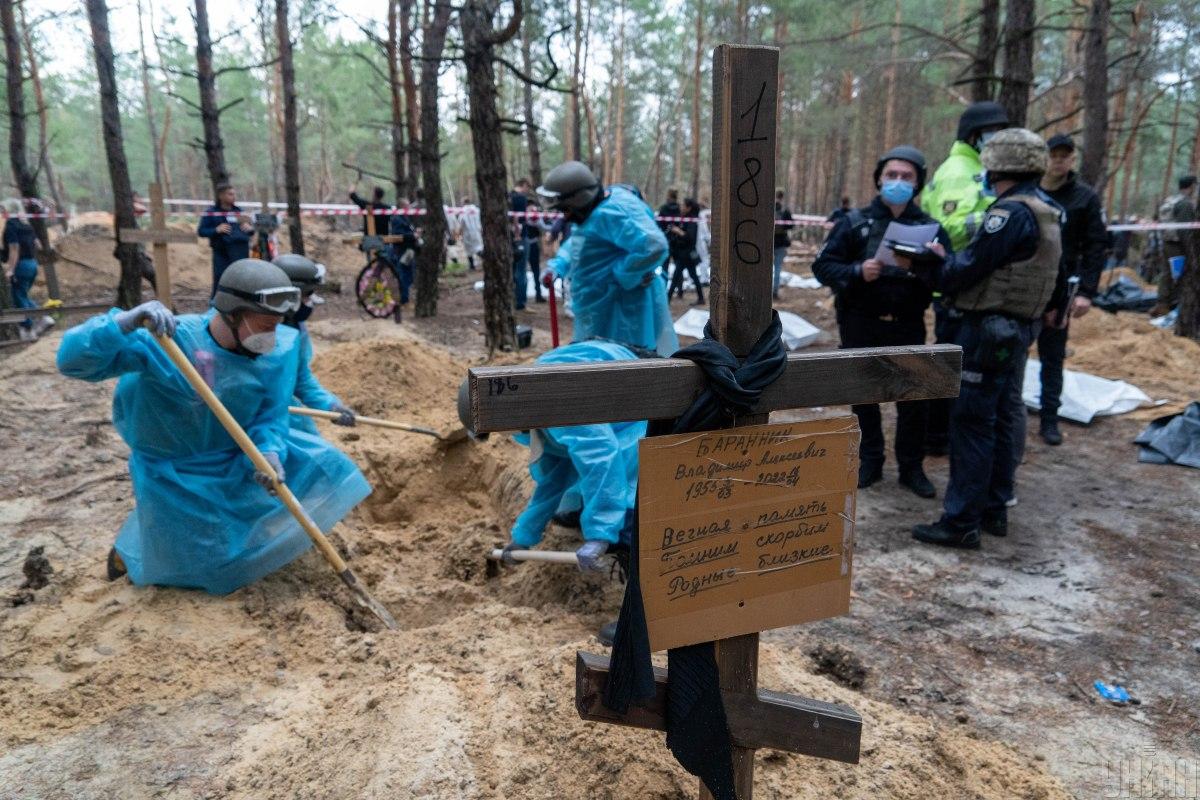 In the liberated Izyum, there may be many more places with mass graves of victims.
This was announced by the Commissioner of the Verkhovna Rada for Human Rights Dmitry Lubinets on the air of the information telethon.
"I'm sure that these are not all the graves. As far as I know, we are currently approaching the figure of 200 exhumed bodies, there are only one cemetery, the previous figure is about 450. There are 7 cemeteries in Izyum," Lubinets emphasized.
He said that according to local residents, the invaders gave the bodies of tortured and dead people to their relatives with a demand to bury them in different places.
"When I was in Izyum, I talked with local residents who were in the city during the occupation. They said that a lot of people died from Russian air bombs, from shelling, who were, among other things, tortured to death in dungeons – in Izyum. Then they were given to relatives and told to bury them in different places. There are 7 such places in Izyum. We started this work only in one cemetery. Therefore, I am sure that there will be more new discoveries and they will be no less tragic and terrible, "Lubinets emphasized
The Ombudsman added that in Izyum during the temporary occupation there was a total system of intimidation and terror of the local population.
"People have experienced this all the time, a total system of intimidation, a search for a permanent one of our pro-Ukrainian people, former law enforcement officers. That is, anyone who just walked down the street could end up in a dungeon and was knocked out of him to sign a document that he was a Ukrainian spy. Unfortunately , very many, they (local residents – UNIAN) say that "many of our residents, they simply did not return after this dungeon, we have not seen them and do not know what happened to them," Lubinets said.
He noted that now there is a fixation of all crimes in order to punish the Russian military.
"Legally, every body is now taken, every one of our citizens and our law enforcement officers are working on each. There are hundreds of representatives of the National Police, there is a separate brigade of the prosecutor's office, separately representatives of the office of the Prosecutor General. As far as I know, foreign specialists help us. It is very important for us that everyone the fact of a crime committed by Russian military personnel was recorded, it is clear that it has been proven and then it will become part of the International Criminal Tribunal," Lubinets emphasized.
As UNIAN reported, on September 14, President Volodymyr Zelensky said that almost all of Kharkiv region had been liberated from Russian invaders, and about 150,000 Ukrainians lived in the occupation for more than five months.
On September 16, the head of the National Police, Igor Klymenko, announced that 10 dungeons were found in the de-occupied territories of the Kharkiv region.
Also near the city of Izyum, which was under occupation, 445 burials of people were found.
According to Oleg Kotenko, Commissioner for Missing Persons under Special Circumstances, five cemeteries were discovered in the Izyumsky District, where civilians and soldiers who died as a result of Russian aggression are buried.
On September 19, Oleg Sinigubov, the head of the Kharkiv Regional Military Administration, announced that 146 bodies had already been exhumed from the mass grave in Izyum, two of them were children. Some of the dead have signs of violent death, bodies with tied hands and traces of torture, traces of mine-explosive injuries, shrapnel and stab wounds.
You may also be interested in the news: