Refusal to perform military duty should entail the deprivation of Russian citizenship, Russian officials believe.
Kirill Kabanov, a member of the Human Rights Council under the President of the Russian Federation, announced the development of proposals regarding the mandatory military service for natives of Central Asia who received citizenship less than 10 years ago.
He wrote about this in his Telegram.
According to him, the possibility is being considered to oblige military service for a year "for new citizens" of Russia who received citizenship less than 10 years ago. This applies to natives of Central Asia, people from Kazakhstan, Kyrgyzstan, Tajikistan and Uzbekistan.
"Refusal to perform military duty should entail the deprivation of Russian citizenship not only for the person liable for military service, but also for members of his family," Kabanov said.
Read also: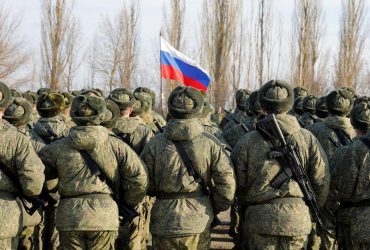 Kabanov considers such an initiative "an adequate response to the official ban on the part of the authorities of the above countries on the participation of their citizens in the SVO on a voluntary basis, for which they face criminal punishment in their homeland."
As Kabanov noted in a comment to the Russian propaganda agency TASS, the proposals will be prepared within a week, they will be sent to the Security Council of the Russian Federation, the State Duma, as well as the leadership of the presidential administration.
Partial mobilization in Russia: how did the CSTO countries react
As UNIAN wrote, Russia, which is in dire need of human resources to continue the war against Ukraine, does not find support among the countries of the Collective Security Treaty Organization.
In May, Russian President Vladimir Putin called "like-minded people" from Armenia, Belarus, Kazakhstan, Kyrgyzstan and Tajikistan to the CSTO anniversary summit. During the meeting, he spoke about the war in Ukraine, but found support only from Belarus.
However, in August Russia began recruiting citizens of Uzbekistan, Tajikistan and Kyrgyzstan into the Russian army again. And on September 13, the Armed Forces of Ukraine for the first time captured a Russian mercenary from Uzbekistan.
On September 21, Russian dictator Vladimir Putin announced the beginning of a partial mobilization. The stated goal is to gather up to 300 thousand people, first of all they will allegedly attract citizens with combat experience. This was followed by the publication of Putin's decree. The published version omitted one of the points. Russian media report that it refers to the draft of one million people. At the same time, on the eve of the country, the penalties for surrender and desertion were significantly tightened.
Kazakhstan and Kyrgyzstan, members of the CSTO, and Uzbekistan, which left the organization in 2012, in response, warned their citizens against participating in the war on the side of Russia and reminded them of criminal liability.
You may also be interested in the news: