Buns pigtails – very tasty pastries for tea or coffee.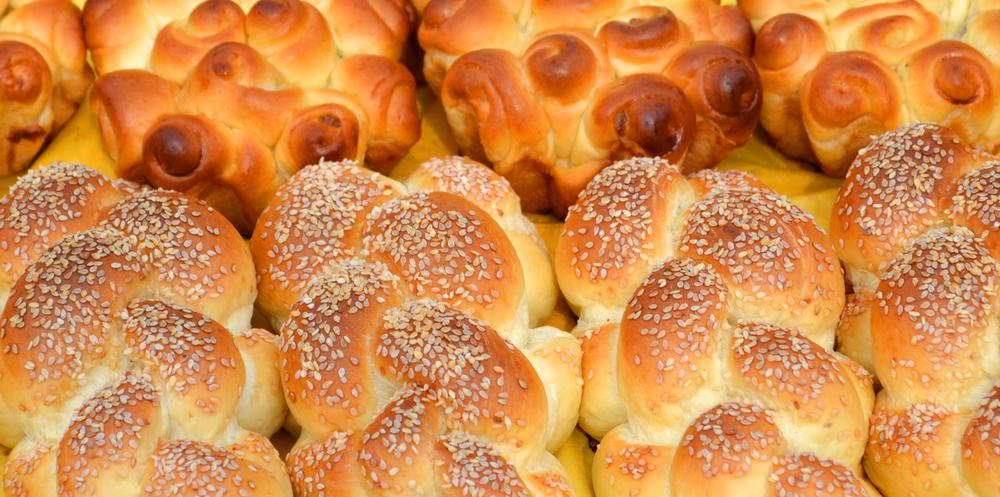 Butter buns in the shape of pigtails bring back pleasant memories when we took such pastries for tea in a canteen or bakery store. You can make airy pastries on your own – a store-bought treat can never be compared with homemade ones. We publish recipes for braids with different fillings.
Sweet pigtails from yeast dough
Flour – 500 g.
Sugar – 3 tbsp. l. + some for sprinkling.
A pinch of salt.
Vanilla sugar – 1 sachet.
Dry yeast – 1 tbsp. l.
Kefir – 200 ml.
Milk – 50 ml.
Butter – 50 g.
Eggs – 2 pcs. + for brushing buns 1 pc.
Sugar for sprinkling.
Heat the milk slightly in the microwave. Dissolve the yeast and half the sugar in the milk. Leave for 15 minutes. Beat eggs with salt, remaining sugar and vanilla sugar. Pour melted butter, warm kefir and yeast mixture into the egg mixture. Mix until smooth.
Gradually add flour to the mixture and knead the dough first with a whisk, and then with your hands. Put the dough in a large bowl and leave for 1.5 hours in a warm place. From the approached dough, roll up sausages and braid pigtails. Put on a baking sheet with parchment. Brush the buns with beaten egg and sprinkle with sugar or sesame seeds. Bake for 25 minutes at 180°.
Sweet curd braids without yeast
Eggs – 1 pc.
Sour cream – 2 tablespoons
Sunflower oil – 80 ml.
Vanillin – 1.5 g.
Vinegar – 1 teaspoon
Starch (any) – 1 teaspoon
Sugar – 100 g.
Flour – 300 g.
Baking soda – 1 teaspoon
Cottage cheese – 150 g.
Salt – a pinch.
Sift the flour several times so that the pastries are airy. Extinguish soda with vinegar and pour into flour. Stir in sour cream, starch and vanilla. Separately, beat the egg with sugar. Stir cottage cheese, butter and salt into the egg mixture. Mix the curd-egg and sour cream-flour mixtures and knead a thick dough until it stops sticking to your hands.
Divide the dough into equal parts and roll into thin sausages. Braid pigtails. Top the buns with sugar, sesame seeds or nuts. Bake for 35 minutes at 180°.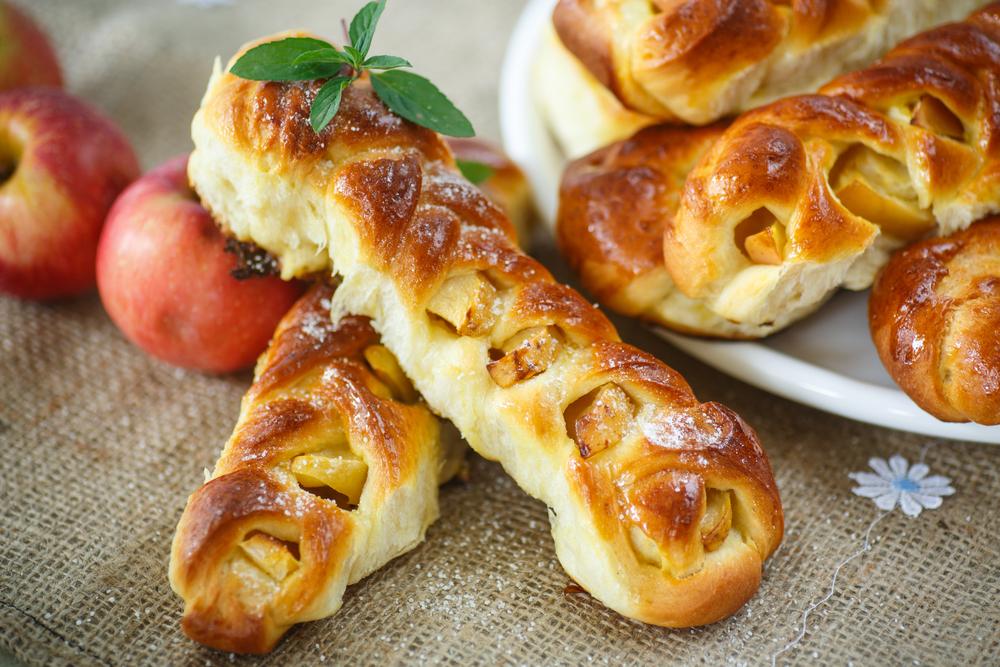 Yeast pigtails with apples
Milk – 200 ml.
Sugar – 5 tbsp.
Flour – 450 g.
Apples – 4 pcs.
Fresh yeast – 20 g.
Butter – 50 g.
Sunflower oil – 1 tbsp.
Eggs – 1 pc. in the dough and 1 pc. for lubrication.
Vanilla sugar – 10 g.
Salt – a pinch.
Heat the milk, stir in the yeast and a spoonful of sugar. Leave the brew for 20 minutes. Then add the egg and melted butter, the rest of the sugar, vanilla sugar, salt to the dough. Gradually add the sifted flour. Knead with your hands a thick dough, cover with cling film and leave to rise for 1 hour.
Peel the apples from the core and cut into cubes. Fry until soft in a pan with sunflower oil. Cool down. Divide the dough into 3 equal parts and roll into rectangles. Put apples in the center of the rectangle, and make cuts on the sides, as shown in the photo.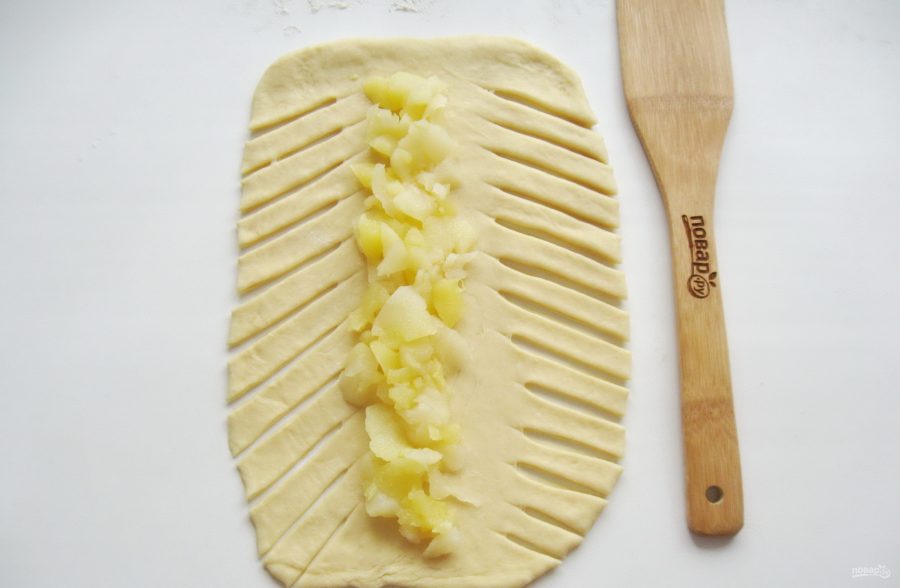 Braid the apples. Put the pigtails on a baking sheet with parchment and brush with a beaten egg. Leave for 30 minutes to let the dough rise. Bake the pigtails for 40 minutes at 180°.
You may also be interested in the news: