At least three more such places have been found in the area, and there are burials in other liberated cities of the Kharkiv region, the OVA reported.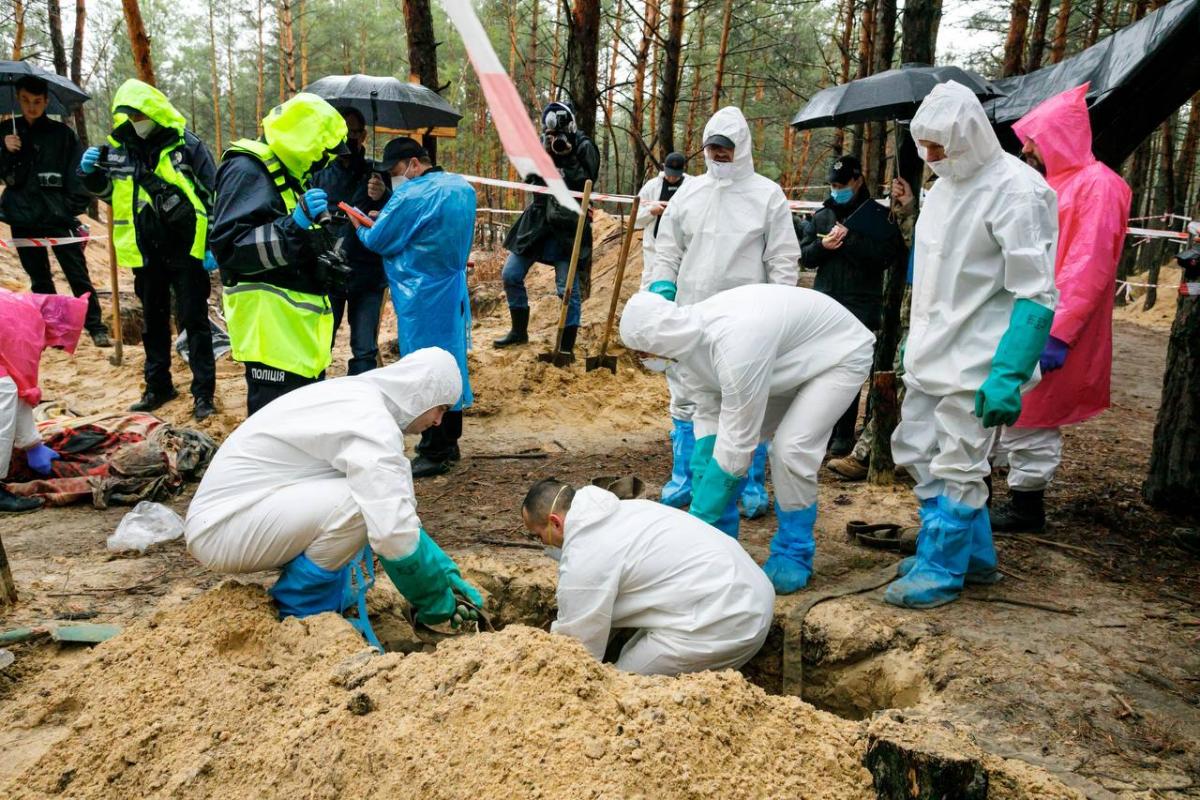 The Office of the Prosecutor General of Ukraine announced the completion of the exhumation of bodies at the mass grave site in Izyum, Kharkiv region – 447 bodies were lifted from the ground.
About it informs press service of the UCP.
"On September 16-23, 447 bodies of the dead were exhumed: 425 civilians from the mass grave in the forest near the Izyum metro station in the framework of criminal proceedings on the fact of violation of the laws and customs of war, involving premeditated murder (part 2 of article 438 of the Criminal Code of Ukraine). , including 5 children, and 22 servicemen of the Armed Forces of Ukraine," the message says.
As noted, for each exhumed body, investigators appointed forensic medical examinations.
"We are awaiting their results and will take all necessary measures to establish the circumstances of the death of people and punish the Russian military," said Alexander Filchakov, head of the Kharkiv Regional Prosecutor's Office.
At the same time, the deceased have already been found to have bodily injuries in the form of mine-explosive injuries, shrapnel, gunshot and stab wounds. Several of the dead had their hands tied, bones broken, and a number of the dead had a rope around their necks.
Oleg Sinegubov, chairman of the Kharkiv OVA, in turn, added that such a mass grave is not the only one in Izyum.
"At least three more such places were found in this area, there are burials in other liberated cities of the Kharkiv region. Inspection and demining are now being carried out," he wrote in Telegram.
Mass grave in Izyum
On September 23, the first deputy head of the Main Investigation Department of the National Police Serhiy Panteleev said that the exhumation process was nearing completion, the police had lifted 427 bodies of Ukrainians from the ground, of which 202 were the bodies of women, 189 bodies of men, 5 – children. Also, 21 bodies of Ukrainian servicemen were found in a mass grave in this city.
In early September, the Armed Forces of Ukraine carried out a successful counteroffensive in the Kharkiv region, liberating almost all the occupied territories of the region.
On September 10, the Armed Forces of Ukraine liberated Izyum from the invaders. The self-proclaimed "mayor" of Izyum left the city even before the UAF began to take it.
During the temporary occupation, a total system of intimidation and terror of the local population operated in the city. 7 cemeteries were discovered there, where civilians and soldiers who died as a result of Russian aggression are buried.
The loss of control over Izyum by the invaders is considered the largest defeat of the Russian Federation after the Kyiv region was liberated from the invaders in the spring.
You may also be interested in the news: