At the border with Kazakhstan, those wishing to leave Russia receive notifications of a travel ban.
The border service of the FSB began to prohibit Russians from leaving the country against the background of the mobilization announced by the President of the Russian Federation.
Pavel Chikov, head of the Agora human rights group, writes about this in Telegram.
The notice published by him says that a citizen who crossed the border between Russia and Kazakhstan is limited to the right to leave the Russian Federation on the basis of a decision of the military commissariat.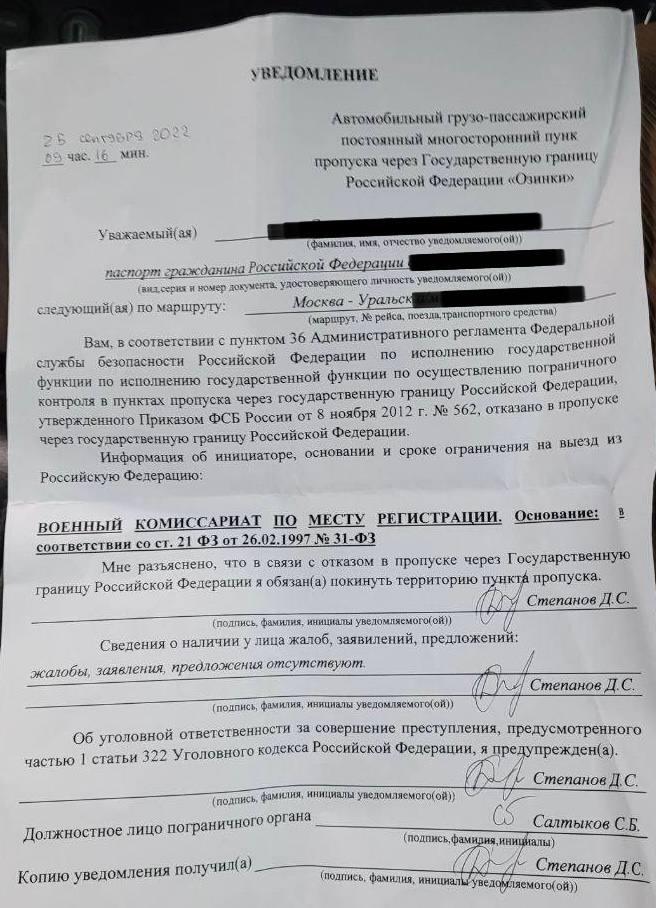 Earlier today, September 25, edition of "Medusa"With reference to a source in the Kremlin, it was reported that, probably, from September 28, men of mobilization age in the Russian Federation will be banned from leaving the country.
According to media reports, there will be a semblance of "exit visas": in order to leave Russia, men will have to obtain permission from the military registration and enlistment office.
Mobilization in Russia: what is happening in the Russian Federation against the backdrop of Putin's decree
On September 21, Putin announced a partial mobilization. Defense Minister Sergei Shoigu said that about 300 thousand people want to mobilize.
Later, the publications Meduza and Novaya Gazeta. Europe reported, citing sources in the Kremlin, that the number of people mobilized in the Russian Federation could reach a million people. Putin's spokesman Peskov called this information "a lie."
In Russian cities, there are a few protests against the mobilization, the participants are detained by law enforcement officers.
After the announcement of partial mobilization, many Russians wanted to leave the country – traffic jams formed on the border with Georgia and Finland.
You may also be interested in the news: