Terrorist Girkin predicted a shameful outcome for Russia in the battles for Bakhmut
Russian military leaders in the battles for Bakhmut can seriously miscalculate, says Strelkov.
Terrorist Igor Strelkov-Girkin predicts the failure of the Russian occupation army in the battle for Bakhmut, Donetsk region. In his Telegram channel, he drew parallels between the battles for Bakhmut and the Battle of Stalingrad.
Girkin called the battle for Bakhmut "the battle of Stalingrad in reverse." He recalled that during the battles for Stalingrad, the Soviet military command managed to impose on the German troops a long and futile battle of attrition, while they themselves prepared for the offensive. The Germans then were confident that they could beat off the attack.
Strelkov believes that now the Russian military leaders in the battles for Bakhmut can repeat the mistakes made by the Wehrmacht at the end of 1942.
"So far I believe that (on a smaller scale, which cannot be said about the possible geopolitical consequences) our command intends to surpass their German counterparts," he says.
Recall that the Battle of Stalingrad lasted from July 17, 1942 to February 2, 1943. In it, Soviet troops converged against the German. The battle became a turning point during World War II, as a result of which the German troops lost their strategic initiative.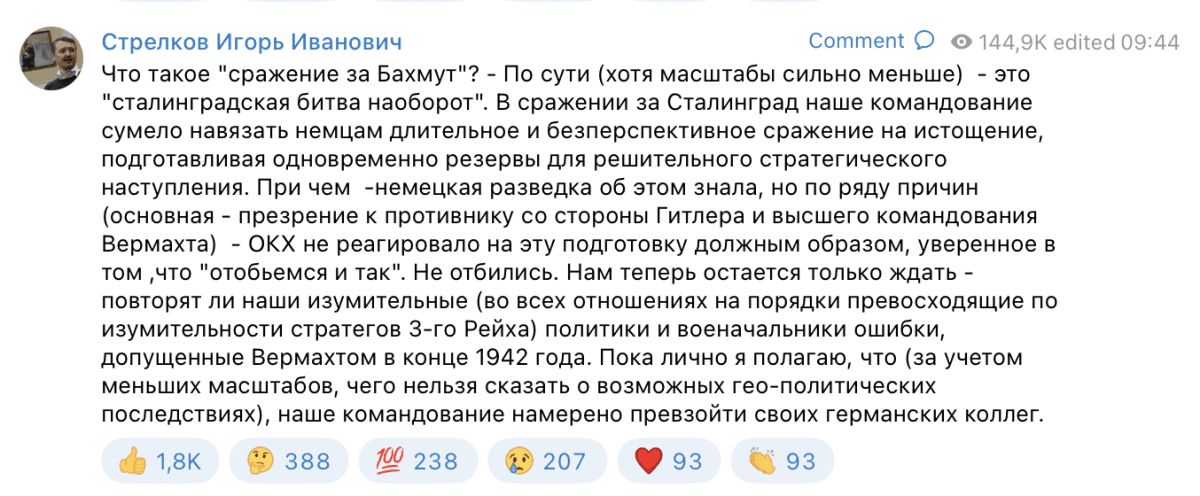 Terrorist Girkin's statements about the war in Ukraine
Earlier, the terrorist trolled the "Wagnerites" for senseless and fruitless assaults in Bakhmut, Donetsk region. According to him, the battles for the streets of Bakhmut look ridiculous against the backdrop of the loss of Kherson and Izyum as a result of Ukrainian counter-offensives last fall.
On March 18, Girkin once again criticized the actions of the Russian invaders in Bakhmut and predicted a strategic defeat for Russia. He noted that the defense of Bakhmut was built by the Ukrainian army competently.
Strelkov also stated that the invaders failed the winter campaign in Ukraine. The successes of the invaders remain at the tactical level.
You may also be interested in the news: