10 minutes – and everyone is full: three quick sausage recipes in the dough
Such a sausage is prepared without yeast dough – instead of it, pita bread, filo and ordinary bread.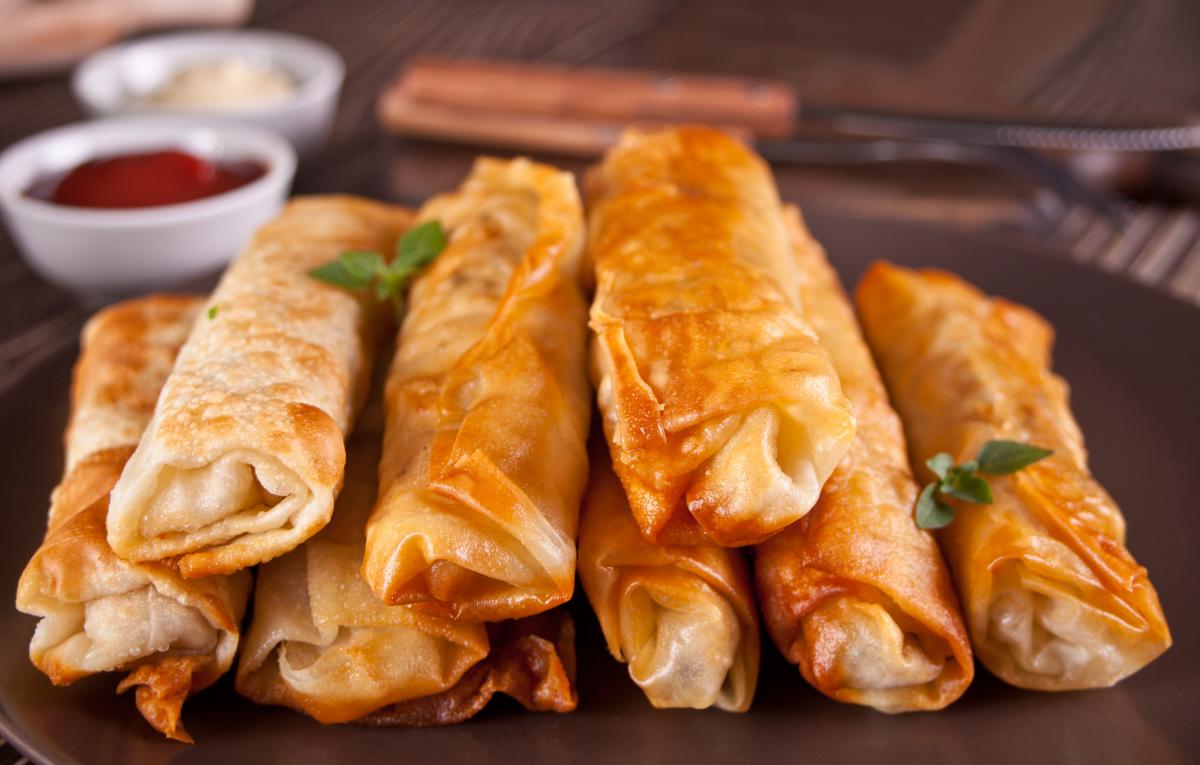 Sausage is not only in yeast dough – you can take ready-made dough, wrap it in pita bread, or cook sausage in bread dough. Have you tried this one? We offer three quick recipes: choose what you like best – in any case, the children will be delighted.
Earlier, we told you how Kiev perepichka is prepared – a recipe for a legendary dish.
Sausage in lavash
Such a sausage in the dough is cooked in a pan in 5 minutes.
Ingredients:
pita bread – 2 sheets;
sausages – 8 pieces;
hard cheese – 100 g;
mustard or tomato sauce – 2 tbsp. l.;
green onions – a bunch;
egg – 2 pcs;
salt;
vegetable oil for frying.
Cut the pita sheets into 4 pieces. Chop the onion, grate the cheese. Lubricate half a lavash sheet with mustard (or tomato sauce), sprinkle with onion, cheese, put a sausage on top. Wrap, tucking the edges of the pita bread on both sides. Secure the edge of the pita bread with a beaten egg.
Dip the pita sausage in the beaten egg and place seam side down in the hot oil. Fry until browned on all sides.
Sausage in the dough in the oven
If you don't like fried food, cook sausage in the oven in filo dough.
Ingredients:
filo dough – 100 g;
sausages – 6 pcs.;
hard cheese – 100 g;
egg – 2 pcs.;
butter – 30 g;
sesame.
Lubricate the dough layer with melted butter, place the second layer on top and brush again with butter. Repeat for 4 layers. Cut into serving pieces. Sprinkle each with grated cheese, put the sausage and wrap, tucking the edges. Secure the edges of the dough with a beaten egg.
Dip the sausage in the batter in the beaten egg, place on a parchment-lined baking sheet, seam side down. Sprinkle with sesame seeds on top and send to the oven preheated to 180C for 10 minutes.
Sausage in the dough in a pan – from toast
For this recipe, neither dough nor pita bread is needed – ordinary bread will do.
Ingredients:
toast bread – 6 slices;
sausages – 6 pcs.;
hard cheese – 6 plates;
egg – 1 pc.;
salt;
vegetable oil for frying.
Cut off the crusts of toast bread, roll out the toast a little with a rolling pin. Put cheese, sausage on toast and wrap. Brush the edges of the toast with water and seal well.
Grind the cut crusts into crumbs (for example, in a blender). Dip sausages on toast in beaten egg and salt, then roll in breadcrumbs and fry in a pan in hot vegetable oil until golden brown.
You may also be interested in the news: