Five warehouses of Russians were blown up in one direction and almost two enemy companies were destroyed – brigadier general
In the Taurida direction, the Ukrainian military completed more than 800 fire missions in a day.
In the Taurida direction, the Defense Forces of Ukraine blew up 5 ammunition depots and destroyed almost 2 companies of Russian invaders.
This was announced by the commander of the operational-strategic group of troops "Tavria", Brigadier General Alexander Tarnavsky in Telegram. According to him, in this direction, units of the missile forces and artillery of the Defense Forces completed 887 fire missions during the day.
"The loss of the enemy in killed and wounded amounted to almost two companies (company size from 80 to 200 people – Ed.)," Tarnavsky said.
The brigadier general noted that 34 units of weapons and military equipment were destroyed and damaged. These are a command and staff vehicle, 4 tanks, 2 Murom-M video surveillance systems, Pole-21 electronic warfare equipment, 2 2A36 Giacint-B cannons, TOR-M2 anti-aircraft missile systems, 3K37 BUK , Strela-10, Supercam drone, Shahed-136 kamikaze drone, Orlan-10 drone and the like.
"Also, 5 enemy ammunition depots were destroyed," Tarnavsky added.
Read also: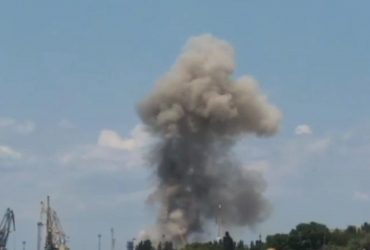 The situation at the front now in Ukraine – what you need to know
On the morning of June 2, the General Staff of the Armed Forces of Ukraine reported that the Russians continue to focus their main efforts on attempts to completely occupy the Luhansk and Donetsk regions. Over the past day, Ukrainian soldiers repelled more than 20 attacks from the enemy.
According to the latest data from the General Staff, the total combat losses of the Russian invaders over more than 15 months of a full-scale war amount to approximately 208,910 people.
You may also be interested in the news: