"Eurovision is a political competition. It's a mistake to think that these are fun starts," singer MELOVIN
Ukrainian singer MELOVIN in an interview with UNIAN told how he decided to go to the national selection for Eurovision for the second time, what is the main message in his song, how he relates to the Russian analogue of the competition, as well as about diabetes, hate for not going to the front , and how his life changed.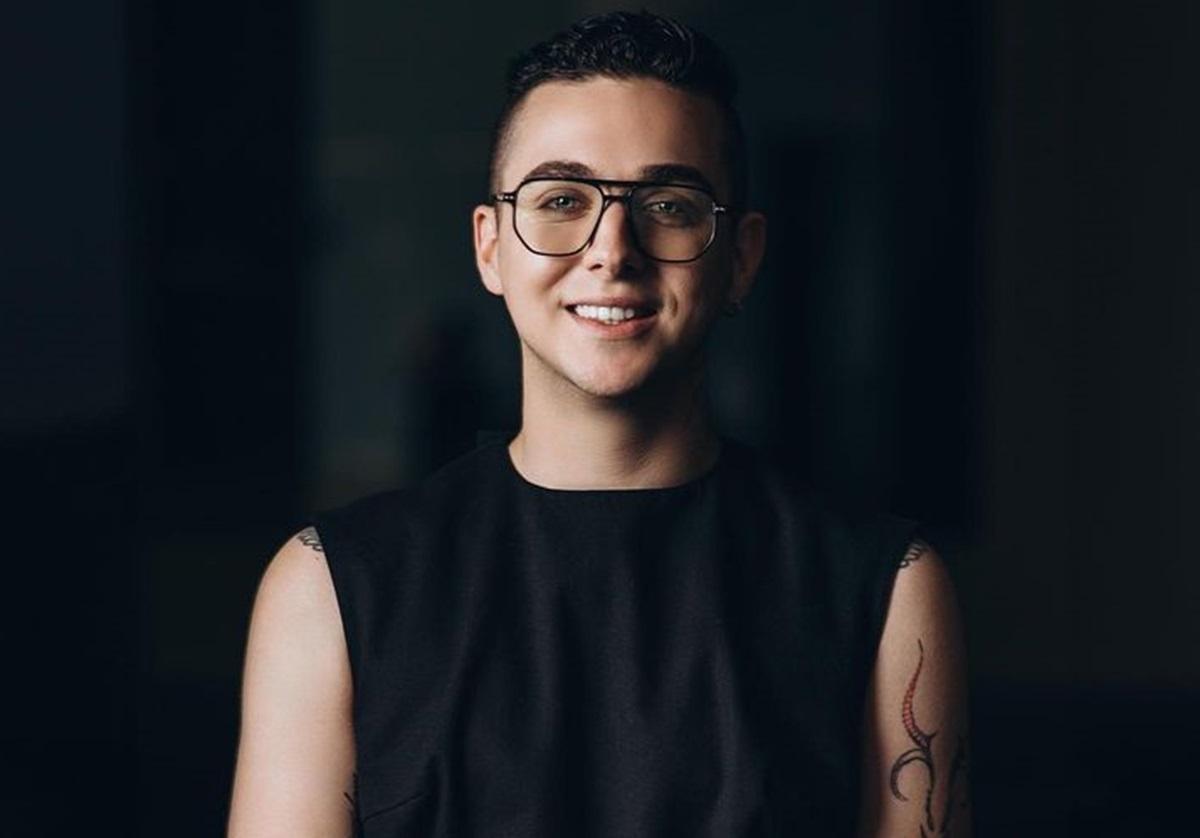 Mel, you recently reported serious health problems. You have been diagnosed with diabetes. So the first thing I want to ask is how are you?
I feel good because, firstly, I changed my lifestyle quite radically. I have been sober for 208 days now, and I continue to live a sober life. It's great, but sometimes I don't recognize myself. Indeed, it is very cool to live in a sober state, even without a glass of your favorite wine. This is the formation of new habits, in some ways I limit myself.
I also started working with a psychotherapist. What also saves me is doing what I love. Now the focus is on my life and nothing else.
Despite all the troubles, you managed to become a finalist in the national selection, for which I congratulate you! You have already represented Ukraine at the competition and took 17th place. How did you decide to apply a second time?
Everything happened quite unexpectedly, like a snowball. The news about diabetes, giving up alcohol… I realized that the worst thing in this life is to waste it. Therefore, I decided to ignore people's words that I had already been to Eurovision and apply. We live once and, unfortunately, very little. You either do something to live your life brightly and have some cool episodes, or you continue to read comments, listen to the words of offended people, and worry about it. I chose the first option.
What is your song about? What is its main message?
The song is called "Dreamer". It's about all of us. I position this song not as written by myself, because everyone around me wrote it. This is a manifesto, an ode to dreaming, because dreamers rule this world. But, unfortunately, the older we become, the more we forget about the dreamer inside. Therefore, this song is not about me, but about everyone. I'm just her voice.
Your name is already known to everyone not only in Ukraine, but also in Europe. But most of your competitors in the national selection are new names. Do you feel superior?
For the first time, when I was in the national selection, I was also unknown. People should not vote for the artist, but for his song. As for me, yes, the Europeans already know me, that's why I went to the national selection. I understand that I have experience, I have already been there, although I did not take a high position. I know what needs to be done to make the level much higher. I did some work on the mistakes.
It so happened that Ukraine won the competition during difficult periods for us. For example, Jamala won after the illegal annexation of Crimea, Kalush Orchestra – after six months of a full-scale invasion. Don't you think that Eurovision is more of a political competition than a musical one?
Yes, but there's nothing wrong with that. Previously, you, I, and other people mistakenly perceived Eurovision as some kind of Olympic Games, fun starts with the smell of the post-Soviet space. All the huge "mistakes" that the participants make at Eurovision are that they perceive the competition exactly as the Olympic Games. Europeans perceive it at the chill as an opportunity to meet musicians and make fits in the future.
In fact, this perception creates a gap between the competition and us. The more you look narrowly rather than globally, the more you fail. But if you are going there just to perform, you are not thinking about some place or victory, then you are already focusing on what will happen next, after the competition.
What do you think Europeans expect from Ukraine now?
Variety and something new. Definitely not folk. Because the Ukrainian mentality is not only about folk.
Recently it became known that in Russia, after disqualification from Eurovision, they decided to create their own competition – "Intervision". What do you think about it?
The flag is in their hands (laughs). I always like how they give examples: "But there, in decaying Europe." It looks very nice. This simply cannot be taken seriously. Russia is a country of surraise. They created a competition and are doing something there. Our main problem is that we stick our noses in there and see what happens in the swamps.
You once said that you would like to perform in Russia. Has your opinion changed now?
Then they really twisted my interview. I said that if there was no war, if everything was normal, if the two countries were not in conflict, it would be great to work there. But this is impossible, because this is a country of d***s. There is no need to go there and look for brothers there. Ukrainians, is it really such inferiority that you need someone there?
Why do you think that most of our artists decided to build a career in the Russian Federation?
It's just a question of money.
Do you currently communicate with Russian colleagues?
Not anymore. I stopped communicating with everyone. None of them wrote to me or called me.
No one supported you?
Let them support themselves.
Since the start of the full-scale invasion, you have given many charity concerts. How did you survive during this period?
Already 200 concerts for sure. All this time my team earned nothing. We simply "scraped out" as best we could. We wanted to do everything that depended on us and make our profession useful. This is "out of time" – this can be said about any profession. This outrages me. Because I invested time, energy, money into studying and becoming who I am today. Therefore, I tried to make my field useful, despite the fact that everything was very difficult. I have a lot of people on my team, they have children, but they didn't earn anything.
We have now suspended performances at charity concerts because we are working on Eurovision and creating new musical material. That's why I switched from concerts to military rehabilitation. A music team cannot live without money, and I can afford it, but I cannot afford not to earn money for the sake of the team.
We make money from royalties, but now they have been completely cut off. If this continues, I will be the first to gather artists all together and unite against this.
Can you remember an incident at a concert that touched you to the core?
Absolutely every concert is like this. Because the military is present at them. And this is the most painful thing. It's touching to see the negativity that people are pouring out because everyone is traumatized right now. The hardest thing is to keep a balance and not be offended by those people, because they throw mud at those who give their last. Usually this is done by those who do nothing; they only split the nation.
By the way, you recently staged a performance and appeared at the event dressed as a pig. Thus, you ridiculed the deputies who profit from the war. Wasn't it scary to organize such a single picket?
In fact, I decided on this very quickly, the day before the award. I was sick inside for the theft of the state budget. I understood that someone would write that all this was nonsense, that I wouldn't help in any way. But I have influence, so I have to do something that can influence the situation, or raise this topic so that people understand it and do something too.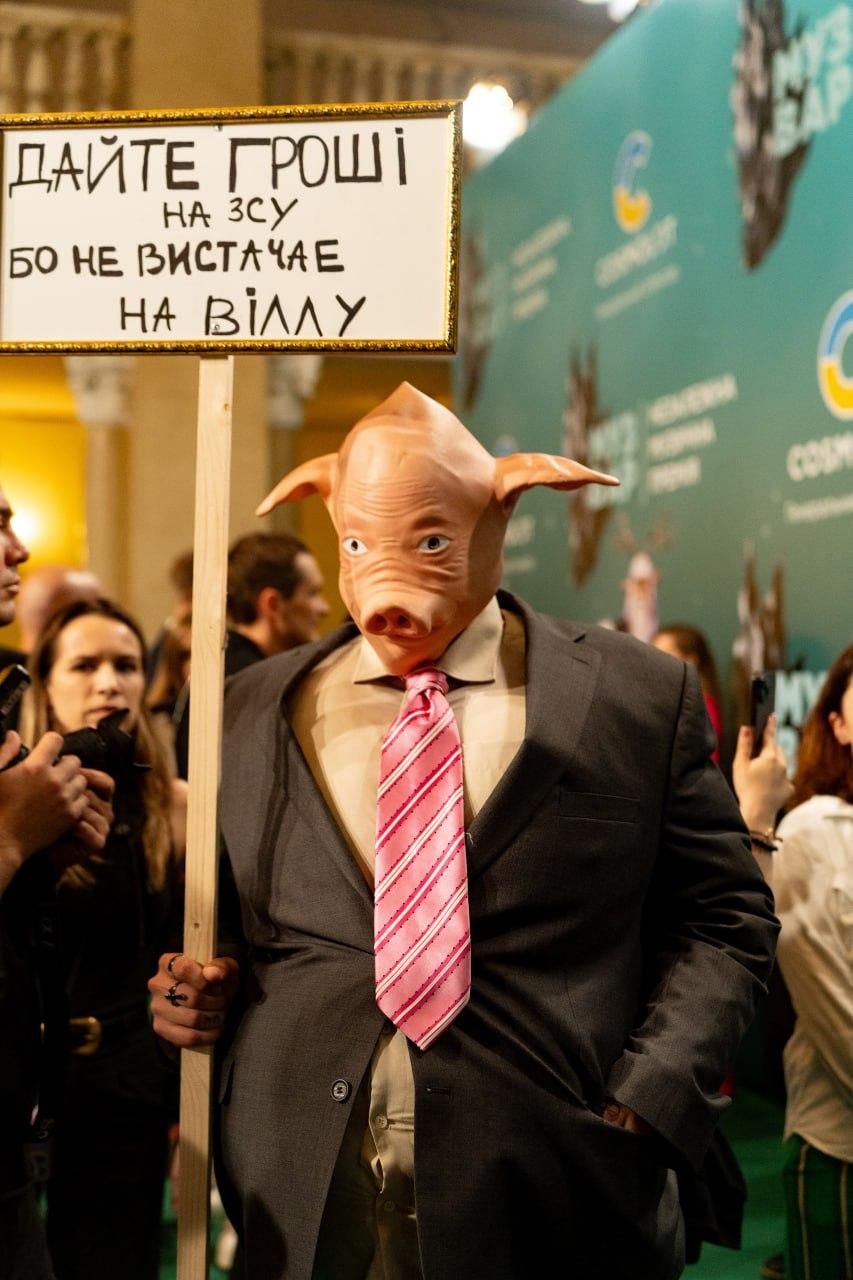 You are constantly reproached for not being at the front. How do you react to this?
Just like everyone else walking down the street right now. I'm not the only one. Why should I try on all this hate?
Did you feel guilty?
They are trying to impose this guilt on me, but I should not feel any guilt a priori. Certain bodies are responsible for mobilization, and I am not these bodies. I didn't fake anything for myself, I didn't buy anything. I'm registered. Like others, we are waiting for something, I don't know what exactly. Become a volunteer – no, because I'm a bitch. I understand this myself. In order to volunteer, you need to have balls, but I don't have them. Therefore, I am ready to help everyone else.
And if they serve you a summons, will you go?
Well, what should we do then? I don't want to leave the country and then be an outcast – no, I don't want to. I have the opportunity to do this, but the question is: "Why?" I'm not hiding anywhere, you can find where I live on the Internet. What should I be afraid of? I live in my own state.
Are any of your relatives currently at war?
Of course, I have people who defend Ukraine at the front and those who have already died in fierce battles with the occupiers. They won't smile at me anymore. Therefore, when they throw something at me, "Why aren't you at the front?", I don't react. What should I do? Quarreling in the comments with these people? Don't want. Perhaps it's also hard for them, maybe they also lost someone at the front. Everyone is injured. You simply either treat people positively or drown in your negativity.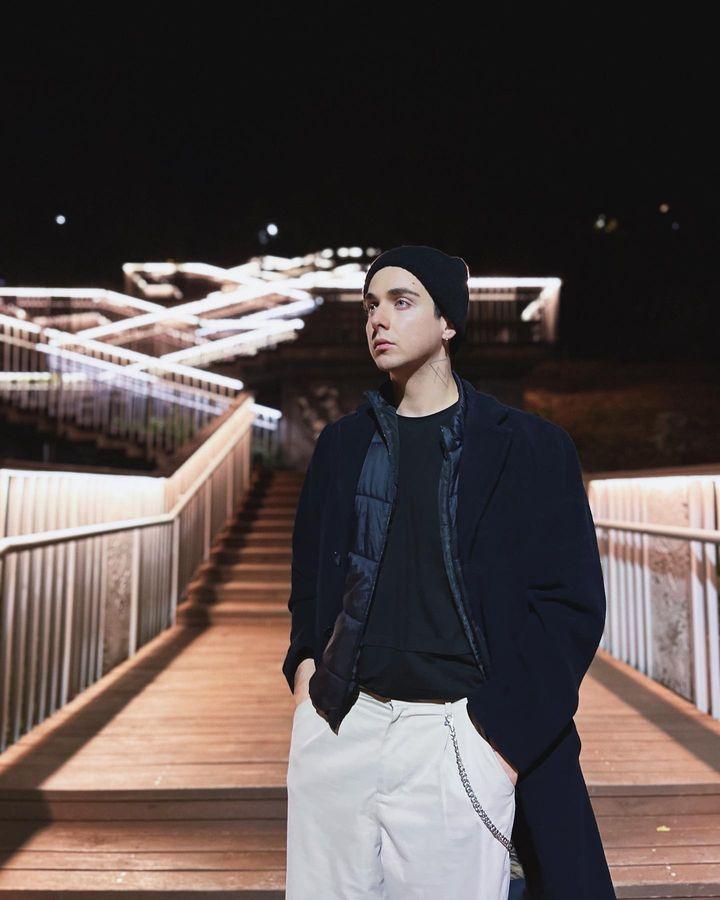 Are your parents in Ukraine now?
Naturally.
Do they support you in your quest to go to Eurovision?
Of course, these are relatives.
Do they give you any recommendations?
No, no one gives instructions, because I myself am the director of my life.
Have you already let them listen to your song?
Yes, mom said that the song is a company. And she said that this was something very new, not like me.
Will your mom go with you to Eurovision?
She is very afraid of flying. Even before the war, I tried to send her on some kind of vacation, but this is impossible. She is very afraid.
Do you listen to Ukrainian artists now? Maybe one of them inspires you?
We have so many new names. This actually makes me very happy. I like some more, some less. But it's wonderful when there is finally a demand for Ukrainian music. Because it was precisely the lack of demand, when there was a lot of Russia in Ukraine, that made it so that our artists earned money there, and not here.
If I single out the artists I listen to, then these are Artem Pivovarov, KOLA and ENLEO. For brewers, by the way, it's about inspiration. I remember one music award when we were nominated together, but I received the "Discovery of the Year" nomination. And now he has overtaken everyone.
In general, I am not attracted to male artists either in Ukraine or abroad. But Pivovarov and ENLEO are my favorite male performers.
Do you consider Pivovarov your competitor?
This is not a competitor. This is a person who has proven himself better than me. He accelerated, and I stalled. It happened. I had mental problems, diabetes, and a lot of alcohol. Everything has a cause and effect relationship. Well done Tema, he got up to speed.
By the way, during the war, many artists appeared who faced hate that their songs were shamanic. For example, the song "I dance hopak". What is sharovarshchina in music for you?
Yes, because this is the same as making a film and showing vodka, lard and borscht in it, when our culture is richer. This is about flat, very cheap. Does such music have a right to exist? Of course, because this music makes a cool contrast against the background of other quality music. In fact, such songs "fly" because black PR is also PR.
Will they exist later? Don't know. Those artists who want – yes, if not, then no.